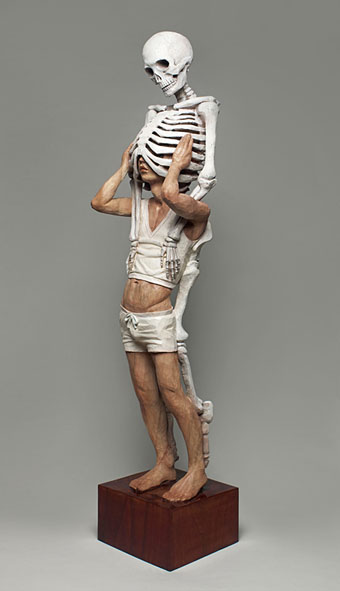 Memento Mori (2012) by Yoshitoshi Kanemaki.
• Greydogtales, home to "weird fiction, weird art and even weirder lurchers", is two years old this month. An essential resource for interviews, reviews and art features.
• Kim Morgan on the paranoia at the heart of John Carpenter's The Thing. The film will receive a welcome Blu-ray reissue by Arrow Films (UK) in November.
• A third and final collection of Patrick Cowley's soundtracks for gay porn films, Afternooners, will be released in October by Dark Entries.
• Photos of the exceptional eldritch art on display until the end of the month at the Ars Necronomica show in Providence, RI.
• Barney Bubbles, Optics & Semantics: an exhibition at Rob Tufnell, London, from 31st August.
• Dimitra Fimi and Adam Scovell on 50 years of The Owl Service by Alan Garner.
• The Duality of Yoshitoshi Kanemaki's Wooden Sculptures.
• Tristan Bath on The Strange World of Keiji Haino.
• Mix of the week: XLR8R Podcast 504 by Curses.
• RIP Brian Aldiss
• Grey Promenade (1985) by Roger Eno | Grey Stripe (1994) by Aphex Twin | Greyscale (2008) by 2562