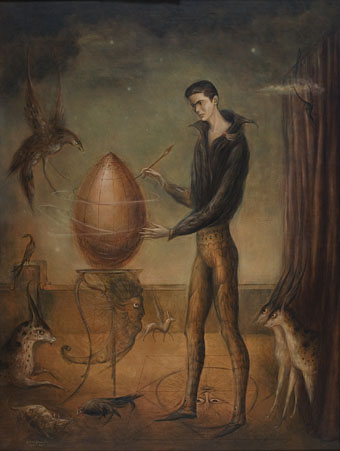 Quería ser pájaro (1960) by Leonora Carrington.
• Artist and author Leonora Carrington was born 100 years ago this week. Marina Warner, an advocate of Carrington's work in the years when the artist was "forgotten" (ie: ignored by those who should have known better), remembered her friend as someone adept at making "visible the invisible". Elsewhere, Carrington's centenary was noted by Phantasmaphile (with many links), Strange Flowers and the LRB, the latter being a Leonora Carrington A-Z by Chloe Aridjis.
• Geeta Dayal on Ikutaro Kakehashi who died this week. The synthesizers, drum machines, effects units and other gear produced by Kakehashi's Roland Corporation are inextricably entwined with the development of electronic music in the 1970s and 80s.
• Do we really need a compilation of singles by Can? Not when all the music has been available for years on albums and compilations. Of more interest is Rob Young's forthcoming (well…not until next year) biography of the band, All Gates Open.
• Out from Thames & Hudson this week: Vinyl . Album . Cover . Art: The Complete Hipgnosis Catalogue by Aubrey Powell.
• At Dangerous Minds: The Master of Moorcock: The psychedelic sci-fi book covers and art of Bob Haberfield.
• Abigail Ward on Queer Noise: the history of LGB music & club culture in Manchester.
• FullFathom5, home of "something rich and strange" makes a welcome return.
• At Flickr: Occult Beliefs and Themes in British Popular Culture (1875–1947)
• At I Love Typography: Jamie Clarke on the evolution of chromatic fonts.
• Mix of the week: a mix for The Wire by Patterned Air Recordings.
• Invisible Cities (1990) by Invaders Of The Heart | Invisible Architecture (1997) by John Foxx | Invisible (2005) by Monolake