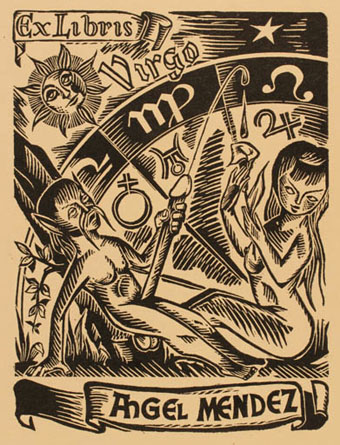 Art by and for the library of Aangel Mendez (1950).
Only the first example here is overtly erotic but the one below is tagged as such on this site which displays a huge variety of bookplate designs. There's more to be found in the Ex Eroticis Libris, Erotica, and Nude sections. Pretty much everything there is heterosexual, of course; homoerotic bookplates from the earlier decades of the 20th century are scarce for obvious reasons but naked males, equivocal or not, can always be found. (Via Things Magazine.)
Art by Heino Beddig (1966).
Art by and for the library of Haagen Bartam-Jensen (no date).
Previously on { feuilleton }
• Koloman Moser bookplates
• Erotic bookplates by Franz von Bayros
• German bookplates
• Troutsdale Press bookplates
• Bookplates from The Studio
• Yuri Yakovenko bookplates
• Tranquillo Marangoni bookplates
• Book-plates of To-day
• Louis Rhead bookplates
• Pratt Libraries Ex Libris Collection
• The Evil Orchid Bookplate Contest
• The art of Oleg Denysenko
• David Becket's bookplates