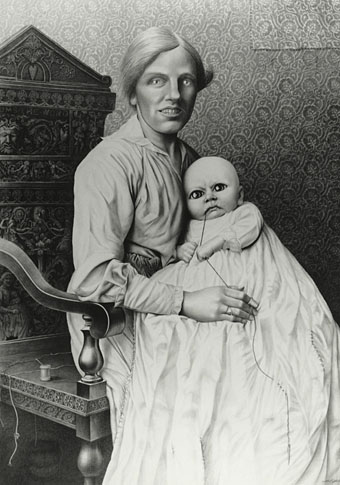 Seam Stress (1987) by Laurie Lipton. The Drawings of Laurie Lipton is out now from Last Gasp.
• The Quietus continues to be essential reading: John Doran talks to Richard H Kirk about Cabaret Voltaire | Sarah Angliss, musician and inventor of music machines, talks to Stuart Huggett | "…the most overt literary lodestar for The Art Of Falling Apart is John Rechy, trailblazing chronicler of the gay underbelly of hustlers and queens zig-zagging across America, and author of Numbers, the book from which Soft Cell's song takes its name." Matthew Lindsay looks back at Soft Cell's second (and best) album.
• "The English have something of a tradition where they like to scare you out of your mind at Christmas, a kind of sobering up of the senses by forces that seem to be beyond them." Colin Fleming on The Signal-Man by Charles Dickens. More ghosts: Lisa Kerrigan explains why she loves Nigel Kneale's 1989 TV adaptation of The Woman in Black by Susan Hill, and the BFI resurrects The Mistletoe Bough (1904), "the oldest film version of a classic Christmas ghost story".
• "…the story is filled with a whole mess of embarrassed and embarrassing euphemisms for (ahem) big dick—stiff language, so to speak, like 'bludgeon,' like 'giant concupiscence' and 'ostentatious organ.'" Steven Cordova on A Visit to Priapus and Other Stories by Glenway Wescott.
• "Never produced, the screenplay for The Way to Santiago is credited to Orson Welles. A quick look at the text leaves no doubt it was the work of the Citizen Kane filmmaker when he was at the peak of his arrogant brilliance. The script begins: 'My face fills the frame.'"
• If you're at all interested in the current state of the British musical underground, the end-of-year lists at Ears For Eyes are worth your attention.
• Pee-wee's (Remastered) Christmas Adventure: An interview with Paul Reubens. Related: Grace Jones sings Little Drummer Boy for Pee-wee.
• "I'm like a drag queen at Halloween." John Waters on his favourite time of year: Christmas.
• Mix of the week: Secret Thirteen Mix 099, an "(anti)Christmas mix" by Robert Curgenven.
• The British Library makes over a million free-to-use images available at Flickr Commons.
• Lost in Translation: Notes on adapting Ballard by Calum Marsh.
• MR James at Pinterest.
• Martin (1983) by Soft Cell | Ghost Talk (1985) by Cabaret Voltaire | For Laika (2011) by Spacedog