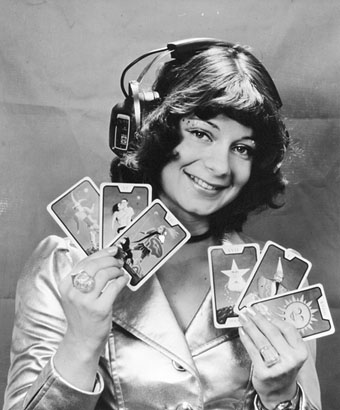 Gille Lettmann pictured in 1973 flourishing some of Fergus Hall's Tarot cards. At the time Ms Lettmann was helping run partner Rolf-Ulrich Kaiser's Kosmische Musik, Pilz and Ohr record labels, and thus oversaw the release of many fine albums—and a few dubious ones—before Kaiser's empire imploded amid much bad feeling. It's a fascinating saga, detailed at length here. Gille's photo stood out for me in a week when I've been working on some new Tarot designs (about which more later) whilst listening to the latest Deutsche Elektronische Musik compilation from Soul Jazz Records which includes among its tracks a couple of Kosmische and Pilz recordings. Gille's Tarot cards will have been a result of Kaiser's most ambitious project, a double-disc concept album entitled Tarot (1973), and credited to Swiss artist Walter Wegmüller whose narration is backed by Ash Ra Tempel and members of Wallenstein. The album came in a lavish metallic silver box with a sheet of cut-out-and-keep Tarot trumps of Wegmüller's own design, not the Fergus Hall cards Gille is holding. Wegmüller's Major Arcana was expanded into a deck he calls the Gipsy Tarot. (I have the later CD box which included a complete deck of the Tarot cards.)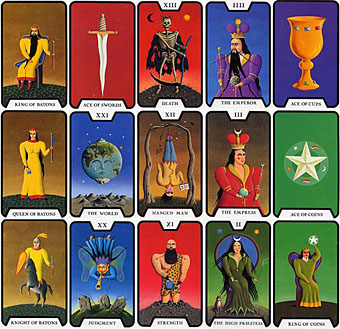 The Tarot of the Witches by Fergus Hall.
All of which gives me the opportunity to draw attention to Fergus Hall, an idiosyncratic Scottish artist who achieved worldwide prominence in 1973 when his Tarot designs were used on the cards seen in the James Bond film Live and Let Die. A complete deck called The Tarot of the Witches was later published as a spin-off from the film. I like his naive painting style which seemed a surprising choice for a blustering Bond movie; the production people could easily have used the Waite deck or something which suited the film's vague Voodoo theme.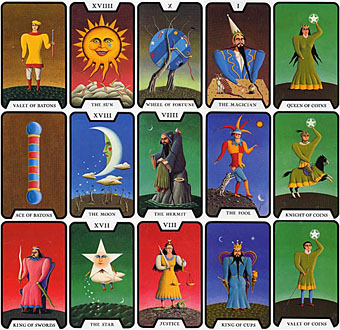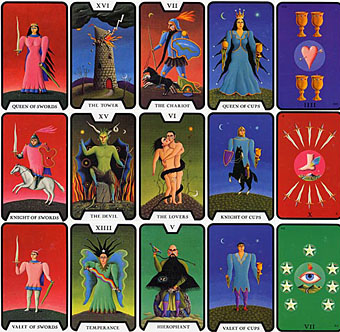 Robert Fripp liked Fergus Hall's paintings enough to buy some of them. Two of these can be seen on the sleeve of the vinyl-only compilation A Young Person's Guide to King Crimson (1975), while a third appeared a decade later on a King Crimson tape compilation. Despite this attention the artist's only other major work is a book for children, Groundsel (1982), which features many more of his strange paintings. The compilations and the children's book are all long out of print but decks of the Tarot of the Witches are still being published. As for Hall himself, his Wikipedia page says he's now a Buddhist monk.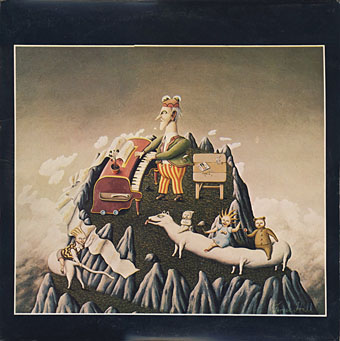 A Young Person's Guide to King Crimson (front).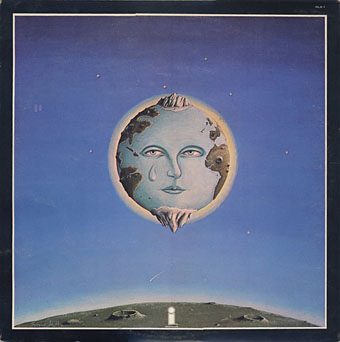 A Young Person's Guide to King Crimson (back).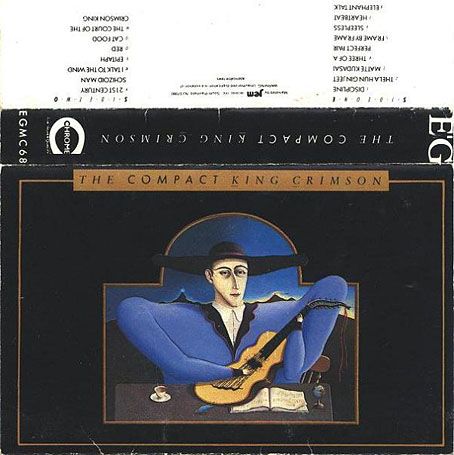 The Compact King Crimson (1986).
Elsewhere on { feuilleton }
• The album covers archive
Previously on { feuilleton }
• Giger's Tarot
• The Major Arcana by Jak Flash
• The art of Pamela Colman Smith, 1878–1951
• The Major Arcana