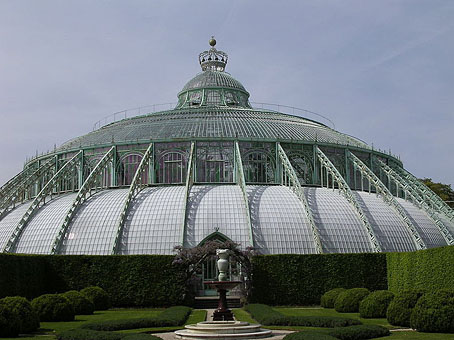 The Winter Garden, photo by William Helsen.
My arcades fetish has been aired here a few times to which one might add a complementary fetish for iron-and-glass structures in general, especially railway stations, palm houses and winter gardens. The Royal Greenhouses at Laeken, Brussels, are an impressive example of the latter, even if they happen to owe their existence to King Leopold II whose barbaric exploitation of the Congo is recounted in Joseph Conrad's Heart of Darkness. Alphonse Balat was the architect of the central Winter Garden built between 1874 and 1876, and reading up on him it turns out that the celebrated Art Nouveau architect Victor Horta was one of Balat's apprentices. Horta never had the opportunity to create anything this extravagant, unfortunately, but if he had the results may have resembled one of the structures created by François Schuiten for his greenhouse city of Calvani (below), a metropolis of the Obscure World. Schuiten is a resident of Brussels and we're told that one of the earthly "Passages" to the Obscure World can be found at the Royal Greenhouses. The building is only open to the public during April and May each year, however, so anyone looking for a route to Schuiten's world may be better off searching elsewhere.
• The Royal Greenhouses at Wikimedia Commons
• The Royal Greenhouses at Flickr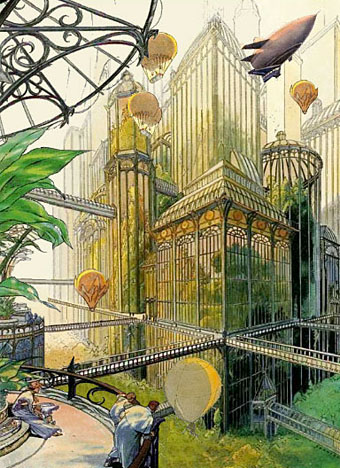 Calvani by Schuiten.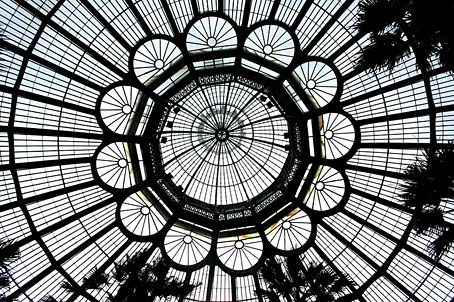 The Winter Garden dome, photo by Jean-Pol Grandmont.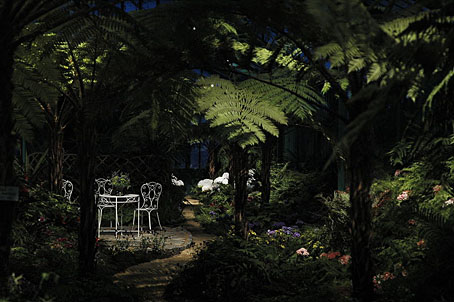 Photo by Roman Bonnefoy.
Previously on { feuilleton }
• Arcades panoramas
• Arcades
• The art of François Schuiten
• Passage des Panoramas
• Passages 2
• Passages