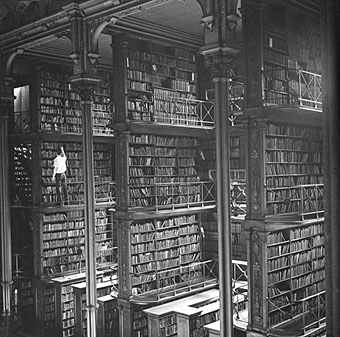 The interior of the Public Library of Cincinnati and Hamilton County "Old Main" Building, 1874. Reblogged over the past few days on numerous Tumblr postings, none of whom had bothered to find out any details about the picture. I'm with Silent Porn Star on the contextless reblogging issue.
• Keith Richards et Mick Jagger à Londres, TV interviews with the Glimmer Twins from 1968 with some remarkable footage in the second half of Jagger filming the penultimate shot of Performance. That French video site requires further exploration. Also there is a short film from 1961 with Jacques Lasry demonstrating the Cristal Baschet. Related: Jacques Doyen & Jacques Lasry play their Cristals while Arlette Thomas and others read French poetry. I wrote something about the mystery of the Cristal two years ago this week.
• Two great album cover blogs from Jive Time Records: Project Thirty-Three is "a shrine to circles, dots, squares, rectangles and triangles, and the designers that make them come to life on album covers" while Groove Is In The Art "celebrates the era when psychedelic graphics and pop art met the mainstream".
• At A Journey Round My Skull: Night Hallucinations: illustrations by Jaroslav Šerých for Tales of the Uncanny (Prague, 1976); Snark, Strangeness and Charm, Mahendra Singh's illustrations for Lewis Carroll and others.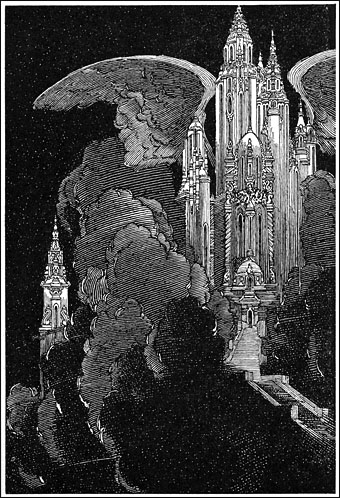 Laurence Chaves illustrates De Quincey's Confessions of an English Opium-Eater at Golden Age Comic Book Stories.
• Austin Osman Spare: Fallen Visionary at the Cuming Museum, Southwark, London in September, "will be the largest showcase of [Spare's] work in a public museum since his death in 1956." Jerusalem Press are publishing an expensive monograph to accompany the exhibition.
• Freeing "Pale Fire" From Pale Fire; "the next big Nabokov controversy". Probably not but the thesis is an interesting one.
• Quintessential 'topiary' in Gandalf's Garden: Barney Bubbles, head shops and Op Art graphic design.
• Monster Brains discovered some more paintings by Thomas Häfner.
• Spaceweather's Northern Lights gallery.
• The passion of Krzysztof Penderecki.
• More Bookshelf porn.
• Sussan Deyhim: Daylaman | Desert Equations (for Brion Gysin) (with Richard Horowitz) | An interview at WorldStreams.
Several links this week via Adrian Shaughnessy's Twitter feed. Thanks!