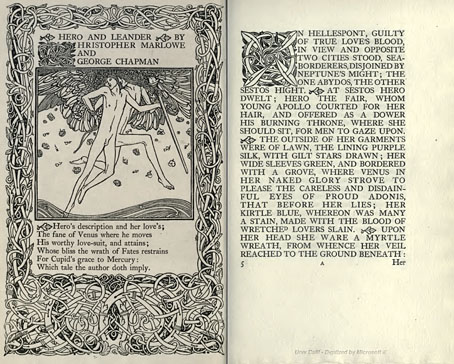 Enthusiasts of Charles Ricketts' illustrations can find book collections of his drawings and paintings but the artist (with partner Charles Shannon) was also a printer, typographer and book designer who would no doubt have preferred his illustrations to be seen in their intended setting. The Internet Archive has a few choice examples of Rickett's books, of which the most profusely illustrated is Hero and Leander (1894), Christopher Marlowe's poem (completed by George Chapman).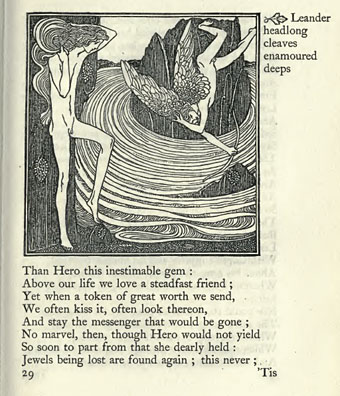 Also of interest is Danaë (1903) by Thomas Sturge Moore with its black and red type, A Bibliography of the Books Issued by Hacon & Ricketts (1904), and A Defence of the Revival of Printing (1899). The latter is of interest to book designers and typographers for its presentation of Ricketts' aesthetic philosophy. Ricketts' and Shannon's books made continual use of a small leaf motif as a pilcrow to mark a fresh paragraph. In A Defence of the Revival of Printing Ricketts discusses his replacement for the ampersand (&), which he disliked, preferring instead a new character combining the letters E and T, ampersands being a contraction of the Latin word "et". There's also some discussion of his unique type designs which he charmingly refers to as "founts", preferring, like contemporary William Morris, the antique terminology.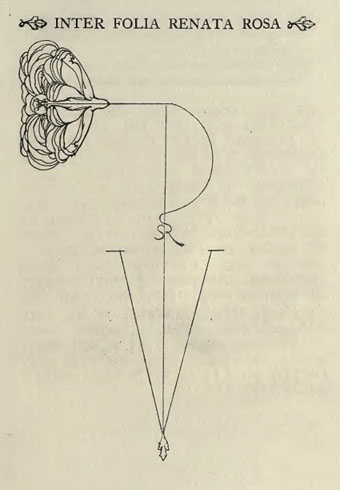 Colophon from Hero and Leander. A rose forms the monogram of Ricketts' and Shannon's Vale Press.
Elsewhere on { feuilleton }
• The illustrators archive
Previously on { feuilleton }
• Art Nouveau illustration
• Dorian Gray revisited