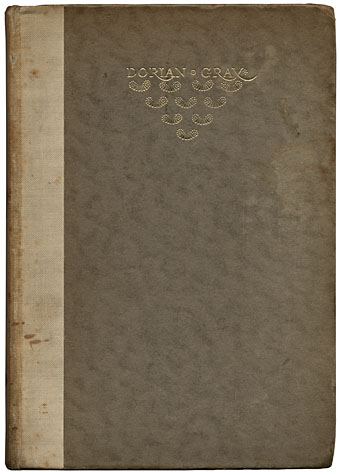 Today's book purchase was an edition of The Picture of Dorian Gray published in 1945 by the Unicorn Press, London. It's rather battered and the spine is stained by some unknown brown fluid that may be blood (which would suit a sanguinary tale such as this) but which is most likely something less dramatic.
The cover is a cropped version of the design drawn by the wonderful Charles Ricketts (1866–1931) for the original Ward, Lock & Co edition of 1891. More about his work below. Ricketts designed and illustrated a number of Wilde's books and was far closer to Wilde than Aubrey Beardsley, despite the latter's permanent association with the writer via Salomé. Ricketts' title design for Dorian Gray was originally lettered in full and the pattern beneath it extended further down the board. The reversed "y" is a unique touch, something I don't think I've seen anywhere else.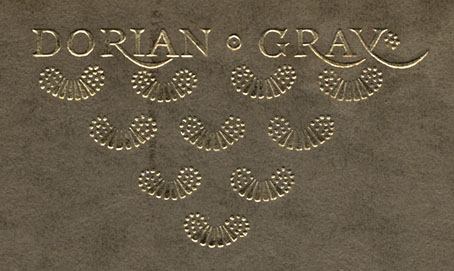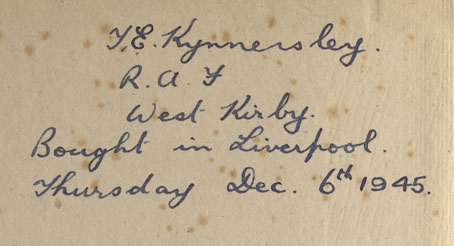 It's always a pleasure to find books inscribed by previous owners. The letters beneath Mr Kynnersley's name in this volume are "R.A.F." denoting his service in the Royal Air Force. The most poignant book inscriptions are those written from the purchaser to a friend, relative or lover being given the book as a gift. Personal statements of this kind always raise a host of questions as to the identity of the people concerned and, if the book is fairly new, set one wondering how it could be given in such good faith yet sold on so soon after. The Book Inscriptions Project has been encouraging contributions of these personal dedications and I suppose I ought to dig out some of the examples I own and forward them.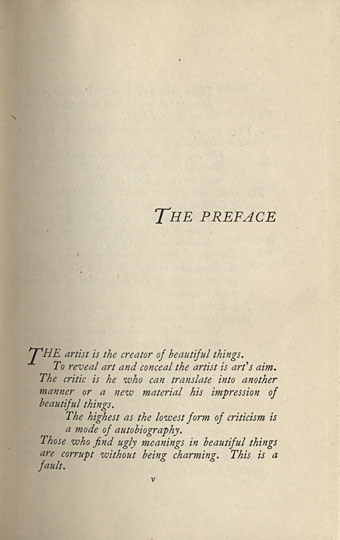 One reason for buying this book was the unusual layout of Wilde's aphoristic preface. Seeing as the cover is a variant of the first edition I wonder if these copy the original printing. Typographic layout today tends to be regimented by the invisible boxes in which the blocks of type are set, meaning that this kind of page design is far less common, especially from major publishers. Books typeset before digital or electronic typesetting also tend to have variable letter spacing throughout, since the type would be set by hand and kerned by eye.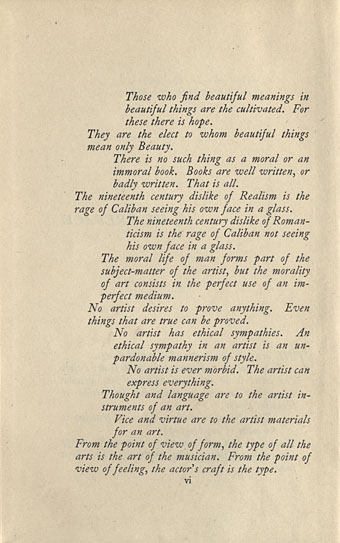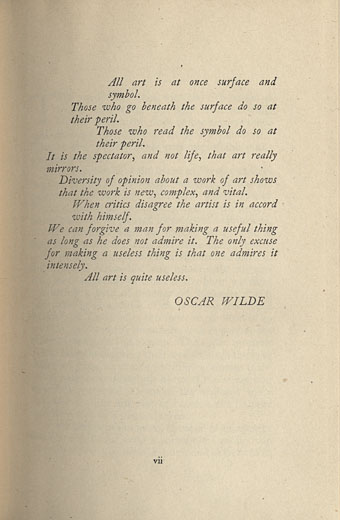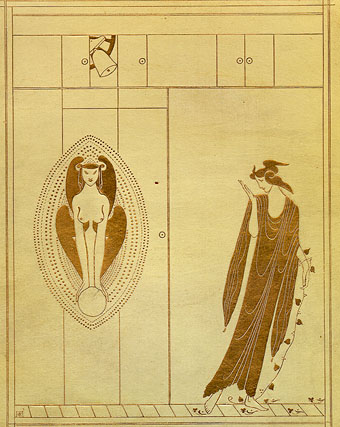 Cover of The Sphinx by Oscar Wilde; design by Charles Ricketts (1894).
And so to Charles Ricketts whose work I'd been intending on writing about earlier. Ricketts and lifelong partner Charles Shannon were two of Wilde's gay friends whose devotion to art—especially the art of book and magazine design—delighted him. He described their home at no. 1 The Vale, Chelsea, crowded with objets d'art, as "the one house in London where you will never be bored". Two of his books were designed and illustrated by Ricketts, A House of Pomegranates (1891) and The Sphinx (1894), and Ricketts provided lettering and cover art for other Wilde books besides Dorian Gray. The Sphinx is easily a match for Salomé, despite being overshadowed by that notorious volume initially. In fact it's arguably the more successful work in terms of pure book design. Beardsley's antagonism towards Wilde's text meant that the words and illustrations are frequently at odds, whereas Ricketts' illustrations are a perfect complement to Wilde's verse. Ricketts also oversaw the typesetting of the book, something that Beardsley never did. Rickett's later considered the book to be his best design.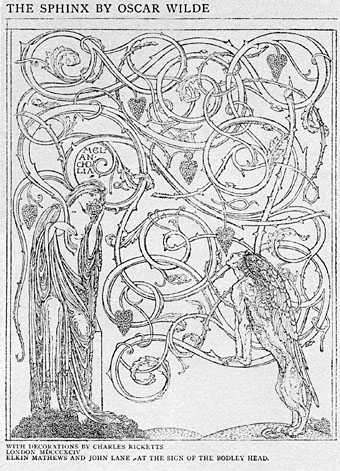 Melancholia; frontispiece to The Sphinx (originally printed in three colours).
Once again it's necessary to complain that there isn't a great deal of an artist's work on the web. The Victorian Web has a few examples of Ricketts' other work. The best general introduction in book form is Stephen Calloway's Charles Ricketts: Subtle and Fantastic Decorator (1979), if you can find a copy.
Elsewhere on { feuilleton }
• The Oscar Wilde archive
• The illustrators archive
• The book covers archive
Previously on { feuilleton }
• Beardsley's Salomé
• Alla Nazimova's Salomé