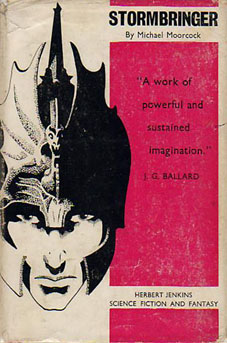 "Jim Cawthorn and I have been inseparable for over twenty-five years, sometimes to the point where I can't remember which came first—the drawing or the story. It is his drawings of my characters which remain for me the most accurate, both in detail and in atmosphere. His interpretations in strip form will always be, for me, the best." Michael Moorcock.
Jim Cawthorn—illustrator, comic artist and fantasy historian—died this week. Cawthorn was the first illustrator employed by Savoy Books and one of the key factors in drawing me to their doors in the early 1980s. His illustrations made their books special and his comics adaptation of Moorcock's The Jewel in the Skull was a big influence on my early black and white work.
Mike Moorcock, Dave Britton and I seem to be in a minority in regarding Cawthorn as one of the finest fantasy illustrators of his generation. His carefully stipled drawings of the late Fifties and early Sixties are all miniature masterpieces and I don't care how many artists attempt lavish paintings of Moorcock's Elric character, for me the definitive representation remains the drawing used on the cover of the first edition of Stormbringer in 1965. Cawthorn was Moorcock's illustrator of choice for many years and was involved with the Moorcock-edited run of New Worlds right from the start with his cover illustrating Ballard's Equinox story. He also provided reviews for New Worlds, and his critical faculties were demonstrated to the full in 1987 with Fantasy: The 100 Best Books, an overview of the genre credited to Cawthorn and Moorcock for which Cawthorn himself wrote most of the entries.
I wrote in more detail about Cawthorn's work for the Savoy site several years ago. For an overview of his career and influences, there's Dave Britton's interview from 1979.
Update: some extra pictures added.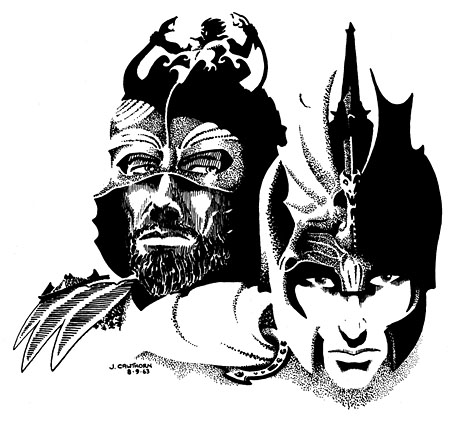 Jagreen Lern and Elric (1963).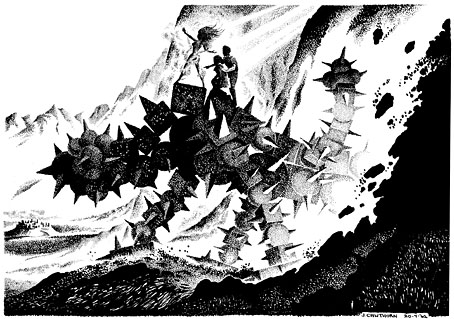 The Metal Monster (1962).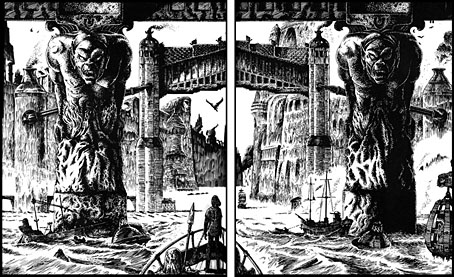 The Jewel in the Skull (1978).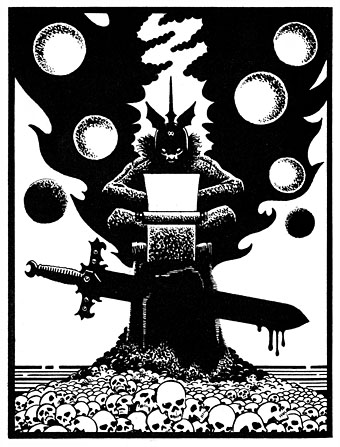 Moorcock portrait 1: The Apocalyptic (1979).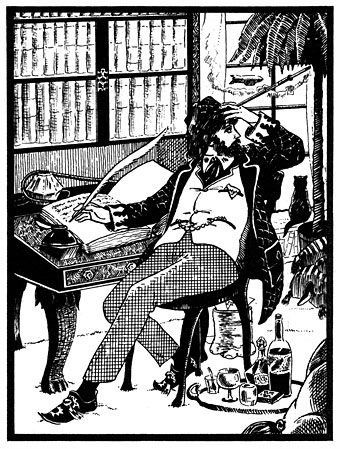 Moorcock portrait 2: The Aesthetic (1979).
Elsewhere on { feuilleton }
• The illustrators archive
Previously on { feuilleton }
• Zeppelin vs. Pterodactyls
• Revenant volumes: Bob Haberfield, New Worlds and others