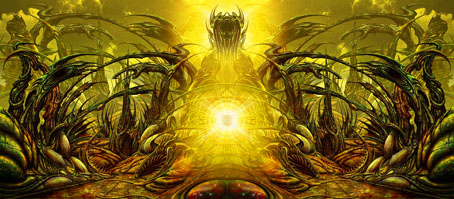 "Mirage in time—image of long-vanish'd pre-human city."
A couple pieces of news to catch up with here, both Lovecraft-related which is very apt for the month of Halloween. The first is the work I gave a teaser view of in August, a commission for Maison d'Ailleurs, the Museum of Science Fiction, Utopia and Extraordinary Journeys in Yverdon-Les-Bains, Switzerland. The brief for An Exhibition of Unspeakable Things: Lovecraft's Commonplace Book was to choose an entry from HP Lovecraft's Commonplace Book, his source of story ideas. The entry I chose implies some of the alien architecture which is a feature of At the Mountains of Madness although I'll admit that the final result is debatable as architecture.
The exhibition details are as follows:
An Exhibition of Unspeakable Things: Works inspired by H. P. Lovecraft's Commonplace Book
Opening on Saturday, October 27, 2007, 6 PM at Maison d'Ailleurs
Pl. Pestalozzi 14, 1400 Yverdon-les-Bains, Suisse
Ph: +41 24 425 64 38, www.ailleurs.ch

Original art by:
Albertine / Albin / Aeron Alfrey / Sylvain Amacher / Fred Bastide / Jose Antonio Bautista / Bénédicte / Noah Berlatsky / Stephan Bersier / Bertschy / Christian Bili / Enrique Bonet / Eric Braün / Benjamin Bron / Gabriel Br. / Giacomo Carmagnola / Paul Carrick / Caza / Daniel Ceni / Jean-Michel Cholette / Gilles Christinat / Cosey / John Coulthart / Marc Da Cunha Lopes / Brendan Danielsson / Guy Davis / Antoine Déprez / René Donais / Randy DuBurke / Antoine Duplan / Kevin Evans / Léonard Felix / Deak Ferrand / Grégoire Fontana / Mathias Forbach / Fufu Frauenwahl / Fritz & Ángel Olivera / Hugues Lapaire / Stephan Gaudin / Gess / H. R. Giger / Thomas Gilbert / Goomi / Gnot Guedin / Antoine Guex / Alban Guillemois / Gwabryel / Karen Ichters / Anna-Maria Jung / Julien Kaeser / Jean-Philippe Kalonji / Thomas Koenig / Körner Union / Krum / Muriel Liénard / Guillaume Long / Denis Martin / Guillaume Mayor / Laurent Mettraux / Berivan Meyer / Yves Milet-Desfougères / Monsieur Mishimoto / Mix & Remix / Fabian Moreillon / Sebastián Mulero / Jason Murphy / Julien Noirel / Johan Nowasad / Noyau / David Paleo / Fernando Pascual / Nancy Peña / Yann Perrelet / Stéphane Pichot / Nicolas Pitz / Plonk et Replonk / Alexandre Pointet / Mark Prent / Björn Quiring / Richard Raaphorst / Nadia Raviscioni / Jeff Remmer / Émile Roduit / François Rouiller / Jérémie Royer / David Saavedra / Patrick Saradar / Rick Sardinha / Irène Schoch / Andrés Soria / Laurence Suhner / Erwann Surcouf / Olivier Texier / Jason Thompson / Tom Tirabosco / Tito / Régis Tosetti / Walder / Anne Wilsdorf /

Catalogue (128 pages, 90 illustrations) with original fiction by:
Terry Bisson / David Collin / Paul Di Filippo / Eugène / Valerio Evangelisti /
Jacques Finné / Jeffrey Ford / Philippe Forêt / Pierre-Yves Lador / H. H. Løyche / James Morrow / Christopher Priest / Lucius Shepard / Norman Spinrad / Ian Watson

The exhibit will also present The Call of Cthulhu, a film by the H. P. Lovecraft Historical Society, Le cas Lovecraft, a documentary by Patrick Mario Bernard and Pierre Trividic, a radio listening station organized by Sonar/Espace 2, and a series of interactive fictions imagined by Jon Ingold (Dead Cities), Peter Nepstad (Ecdysis), David Whyld (The Cellar), Eric Forgeot, Hugo Labrande, JB, Samuel Verschelde and Jean-Luc Pontico (Lieux Communs), as well as Ruben Nieto, Juan Saldalgo, Santiago Eximeno, Javier Carrascosa and Pablo Martínez Merino (El Museo de las Consciencias).
Naturally I'm very pleased to be involved with this. My contribution is a lot larger than usual, the final work being a digital file (which has been printed and framed) measuring 116.79cm x 52.5cm (45.98ins x 20.67ins) at 300dpi. The process of creation involved doing a drawing on a large sheet of paper which was then scanned and "painted" over using Photoshop's airbrush tool. I made screen grabs during each stage of this and I'm intending on putting together a page showing how the work developed from start to finish. For now you can see a couple of examples.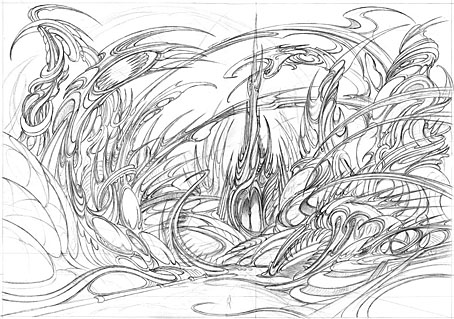 This was the finished drawing on an A2 sheet of paper. In the past I would have done this on board then painting over the outline with acrylics. The new working method is fairly similar but has a number of advantages and I much prefer doing this kind of very detailed work with Photoshop. It's far less of a strain on my weak eyes, since you can zoom in on the area you happen to be working on; mistakes are easier to rectify (paint brushes don't have an "undo" feature), there are more options for changing colours and contrast and—best of all—you can collage in bits of photographic or other material, which is something I did here. Much of the overall texture is created by using layers of my favourite photograph of a rusty bridge support and there's some judicious use of organic weirdness from Haeckel's Art Forms in Nature. I'm of the opinion now that Photoshop is superior to paints for the creation of this kind of art. Paints have other advantages, of course, but the surface texture of the material isn't a concern for work intended to be a window on another world.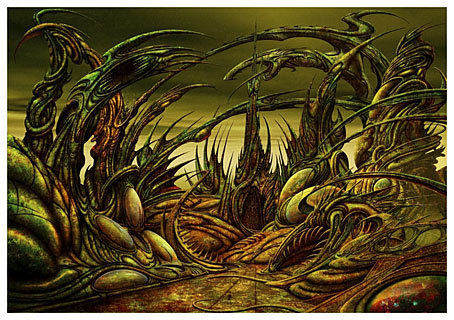 This was the final stage of the painting. Here's a closer view of the detail at about 50% of the actual size: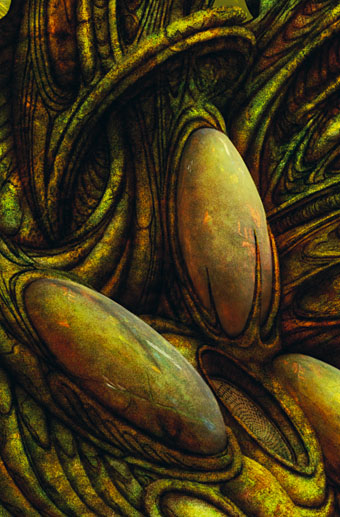 What I did next was horizontally mirror the completed picture twice, dropping one of the versions into the background. I hadn't planned on doing this originally but when I tried it the result was so impressive I realised it would look great for the final piece. Another advantage of digital art is that I still have a high-res copy of the pre-mirrored version. All that was required then was to fill out the central area a bit and the picture was done. Total work time was about five weeks which isn't bad considering I was doing other work during the day then spending a couple of hours each evening on this.
Once the exhibition is over I'll be making some prints of the picture and yet more CafePress products available for sale, details of which will be announced here.
The other news is that some of my Lovecraft illustrations from The Haunter of the Dark are to be featured in a new Lovecraft documentary by Frank Woodward. This looks like it's going to be the best HPL documentary to date given the quality of the contributors—Ramsey Campbell, John Carpenter, Guillermo Del Toro, Neil Gaiman, Stuart Gordon, S.T. Joshi, Caitlin Kiernan, Robert Price, and Peter Straub—and with the whole thing being filmed in HD. Also among the contributors is Christian Matzke whose short film Dunwich used my adaptation of The Dunwich Horror as an inspiration. There's an initial trailer for Lovecraft: Fear of the Unknown here which gives a taste of what's in store. A DVD release is also planned; once again, any further details about that will be announced here.