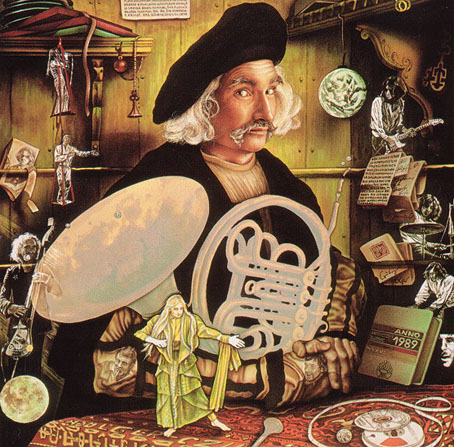 Holger Czukay by Ursula Kloss, from the cover of Czukay's Moving Pictures (1993). (The painting is a pastiche of Holbein's portrait of Georg Gisze.)
• RIP Holger Czukay. The obituaries have emphasised his role as the bass player for Can, of course, but he was just as important to the band as a sound engineer and producer: it was Czukay's editing skills that shaped many of their extended jams into viable compositions. Post-Can he recorded 20 or so albums by himself or with collaborators, several of which can be counted among the best of all the Can solo works. Geeta Dayal and Jason Gross remembered their encounters with Czukay, while FACT reposted their 2009 interview. Czukay's final interview was probably last year when he talked to Ian Harrison for Mojo magazine.
For my part, I was astonished when Czukay phoned me out of the blue one day in 1997 to thank me for sending him a video I'd made in the 1980s. This was a scratch production created with two VCRs that set 300 clips from feature films to Hollywood Symphony, the final piece on Czukay's Movies album. Years later, MTV showed a couple of similar video collages that Czukay had made for Can so I sent a copy of my effort to Spoon Records thinking he might be amused. His public persona was often one of a wacky mad professor but the jokiness was allied to an impressive technical skill and curiosity. Most of our brief conversation was taken up with my answering his questions about my primitive video recording.
• "Every pebble can blow us sky-high": A reconsideration by J. Hoberman of The Wages of Fear, directed by Henri-Georges Clouzot.
• Dario Argento's masterpiece of horror cinema, Suspiria, is 40 years old. Martyn Conterio looks at five of its influences.
• Mark Korven's Apprehension Engine: an instrument designed to play the music of nightmares.
• The mystery of the Voynich Manuscript solved at last? Nicholas Gibbs thinks so.
• At Dangerous Minds: The macabre and disturbing sculptures of Emil Melmoth.
• Jonathan Meades reviews A Place for All People by Richard Rogers.
• Mix of the week: Secret Thirteen Mix 229 by Erin Arthur.
• The ten creepiest objects in the Wellcome Collection.
• Rob Chapman's essential psychedelia reading list.
• It's Just A Fear (1966) by The Answers | Fear (1992) by Miranda Sex Garden | Constant Fear (2002) Bohren & Der Club Of Gore