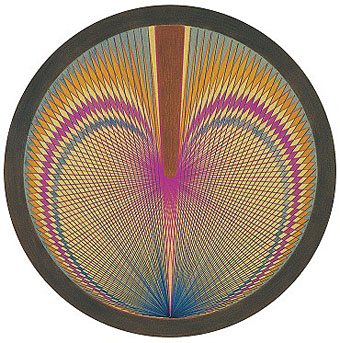 A design by Emma Kunz (1892–1963).
• Following the news this week it's worth reminding people of a great post put together by Adam Curtis back in January, Rupert Murdoch—A portrait of Satan. One detail there concerns the death of chat show host Russell Harty in 1988. This week the London Review of Books posted an extract from Alan Bennett's diaries referring to the Harty episode where he notes how the tabloid practice of getting private phone numbers from the police was common and widespread, not simply the actions of a single newspaper. For more about the deathbed hounding of Russell Harty (and Bennett's loathing of Murdoch) see Writing Home. Related: Dennis Potter shortly before his death discussing his desire to kill Rupert Murdoch.
• Don't get mad, get even: Hakim Bey's Black Djinn Curse: "How to invoke a terrible curse on a malign institution." See also: Black magic as revolutionary action.
• Village Voice talks to Linda Manz about her experience as a young actor in Days of Heaven, The Wanderers and Out of the Blue.
• Truth Wins Out infiltrates the "ex-gay" clinic run by Michelle Bachmann's husband.
• Free Situationist booklets by Larry Law. Related: films by Guy Debord at Ubuweb.
• Have tea with Doctor Dee in Mortlake, London, next Wednesday.
• Publisher Peter Owen: Sixty years of innovation.
• Wilhelm Reich: the man who invented free love.
• A conversation with Brian Eno by Ben Sisario.
• The mysterious minaret of Jam, Afghanistan.
• Stereolab cover designs at Hardformat.
• Orgone Accumulator (1973) by Hawkwind | Cloudbusting (1985) by Kate Bush | Orgasmatron (1986) by Motörhead | Orgasmatron (1993) by Sandoz | Orgone Donor (2004) by Deathprod.