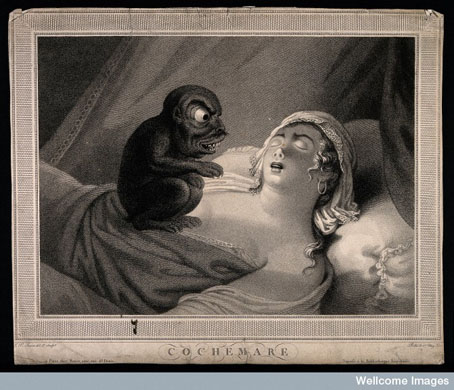 Cochemare (1810) by Jean Pierre Simon. One of 100,000 high-resolution images now available from Wellcome Images.
• Ted Morgan's Literary Outlaw: The Life and Times of William S. Burroughs (1990) was a solid biography blighted by a bizarrely bad-tempered and judgemental attitude towards many of Burroughs' friends and colleagues. Morgan says Burroughs disliked the book (he also says his subject died in 1993, not 1997…) so I'm looking forward to the new biography by Barry Miles, Call Me Burroughs: A Life. There's a curious detail in Jeremy Lybarger's piece about August Derleth, HP Lovecraft's publisher and lifetime champion, causing a fuss after the Chicago Review published extracts from Naked Lunch in 1958. Burroughs enjoyed Lovecraft's fiction but it's unlikely that Lovecraft would have been anything other than appalled by Burroughs's work. Barry Miles will be holding a Q&A session at the ICA, London, next month following a screening of Howard Brookner's restored documentary, Burroughs: The Movie.
• Mix of the week: Secret Thirteen Mix 105 by Sturqen. At 3quarksdaily Dave Maier writes in praise of drones (the musical variety), and links to three mixes.
• Interviews: Haakon Nelson talks to Harold Budd, Joseph Burnett talks to William Basinski, John Stezaker talks to Nicolas Roeg.
Derek responded to an invitation to address [AIDS] hysteria by lining the gallery with a set of tarred and feathered mattresses loaded with the traces of queer love-making and then framing them against wallpaper made from Xeroxed, blood-spattered front pages. In the middle of all this he then constructed a makeshift barbed-wire cage that imprisoned and protected a pair of apparently naked lovers – usually a pair of handsome, sleeping boys, but for one afternoon at least Tilda Swinton dropped by, just to make the point that the boys didn't have an exclusive stake in or artistic rights to this crisis. Between the walls and the cage, the air of the gallery was thick with tension and hatred – sometimes literally so, as visitors to the gallery objected vociferously to what they were seeing.

Neil Bartlett on celebrating Derek Jarman 20 years after his death.
• William Friedkin's Wages of Fear remake, Sorcerer (1977), receives an overdue reissue on DVD/Blu-ray in April.
• James Knowlson asks "What lies beneath Samuel Beckett's half-buried woman in Happy Days?"
• The UK's web filtering seems to be blocking common sense says Jane Fae.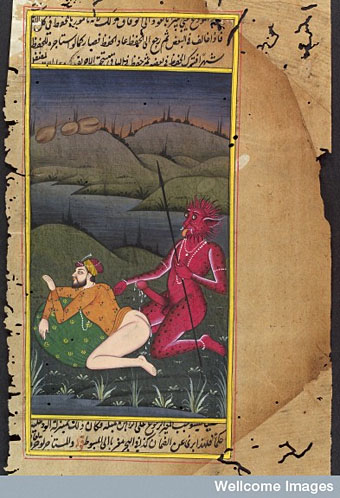 A devil buggering a man (19th century).
• The poetry of Hart Crane, from the American epic to personal belonging.
• The Sonny Sharrock Quartet play Stupid Fuck, live 1988.
• Lutinemusic: Espera | Died Of Love | All I Have Is Gold