Nite Flights (1978) by The Walker Brothers. Cover design by Hipgnosis.
something attacked the earth last nite
with a kick that man habit-eye
cut the sleep tight boys who dreamed and dreamed
of a city like the sky
Scott Walker quotes Brion Gysin (and who knows what else) in Shutout (see below), one of the four remarkable songs he wrote for the final Walker Brothers album, Nite Flights. That album cast a shadow over David Bowie's Lodger a year later, and led Bowie to try his hand at a cover of the title track in 1993.
• Frédéric Chaubin's photographs of what he calls Cosmic Communist Constructions. Also a new book from Taschen, and an exhibition at the Karlsruhe Museum of Contemporary Art. PingMag interviewed Chaubin back in 2006.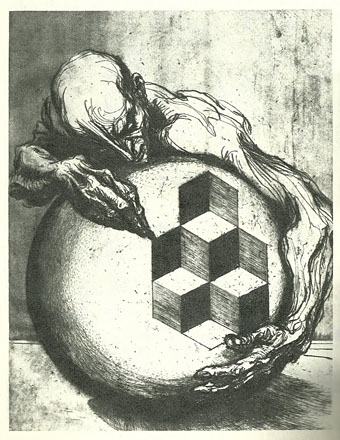 From Disparate works by Romanian artist Marcel Chirnoaga (1930–2008). See also the Virtual Museum of Marcel Chirnoaga.
The immense size of modern databases gives us a feeling of meaninglessness. Information in such quantities reminds us of Borges's library extending infinitely in all directions. It is our task as humans to bring meaning back into this wasteland.

Freeman Dyson on The Information: A History, a Theory, a Flood by James Gleick.
• In the Tumblr labyrinth this week: Mr Rossignol, the Elephant House for Edward Gorey, and Brion Gysin.
• Related to the last, Mutate or Die is "a bioart project being conceived of and executed by Tony Allard and Adam Zaretsky".
• Barry Miles's top 10 counterculture books. Related: Rick Poynor on Richard Neville's Playpower.
"The sooner literary fiction recognises & accepts its generic identity, the sooner it can get help."
• Is YouTube user "Kosinski" the ever-elusive Chris Marker? "All signs point to yes."
• The Internet Archive is making its books available to US libraries.
• The Castle of Shadows at BLDGBLOG.
• The Light Painting Pool at Flickr.
• Scott Walker (with the Walker Brothers): Shutout |Nite Flights | The Electrician.