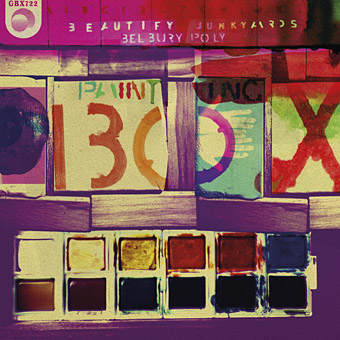 The next release on the Ghost Box label, Painting Box is a collaborative seven-inch single by Beautify Junkyards and Belbury Poly, the A-side of which is a cover of a song by The Incredible String Band. Available on 30th April. Design, as always, is by Julian House.
• "What is good for you as a person is often bad for you as a writer. People will tell you that this not true, and some of the people who will tell you that are also writers, but they are bad writers, at least when they try to convince you, and themselves, that the most important thing for a fiction writer to have is compassion." Brock Clarke on the case for meanness in fiction.
• The week in non-human intelligence: "Life beyond human has to play by the rules of natural selection," says David P. Barash, and Thomas Moynihan on dolphin intelligence and humanity's cosmic future.
• Ilia Rogatchevski speaks with historian Juliane Fürst about her new history of Soviet hippies and the counterculture of the former USSR.
• Mushroom with a view: Karen Schechner at Bookforum talks with Bett Williams about her mycological journey.
• Retro instinct versus future fetish: Fergal Kinney on Stereolab's Emperor Tomato Ketchup 25 years on.
• At Dennis Cooper's: Spotlight on…JG Ballard: The Atrocity Exhibition (1970).
• This is Hexagon Sun: A feature-length video on Boards of Canada.
• Mix of the week: The Ides by The Ephemeral Man.
• New music: Gyropedie by Anne Guthrie.
• Paintbox (1967) by Pink Floyd | Orgone Box (1989) by Haruomi Hosono | God Box (1996) by Paul Schütze & Andrew Hulme