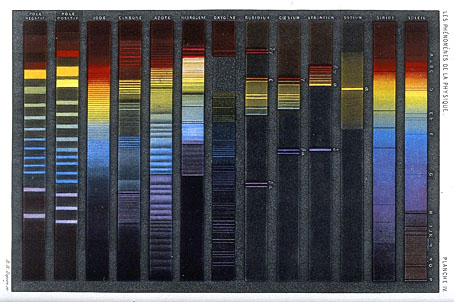 "Spectra of various light sources, solar, stellar, metallic, gaseous, electric", print by René Henri Digeon; plate IV in Les phénomènes de la physique (1868).
• More polari: Thom Cuell this time with another review of Fabulosa!: The Story of Polari by Paul Baker. Good as it is to see these articles, one thing they all share is paying tribute to the polari-enriched radio series Round the Horne without crediting its writers, Barry Took and Marty Feldman.
• "…with its conspiracy theories, babbling demagogues and demonised minorities, Bahr's investigation is sadly all too relevant today." Antisemitism (1894) by Hermann Bahr, is the latest new translation from Rixdorf Editions.
• Isao Tomita in 1978 showing a presenter from NHK around his tiny studio. Japanese-only but the discussion reveals that the words "synthesizer", "tape recorder" and "mixer" sound the same as they do in English.
• Ben Frost talks to Patrick Clarke about his music for German TV series, Dark.
• PYUR composes a guide through limbo with Oratorio For The Underworld.
• Steven Heller on Don Wall's book design for a Paolo Soleri retrospective.
• Coming soon from Fulgur Press: Ira Cohen: Into the Mylar Chamber.
• Will Harris compiles an oral history of Q: The Winged Serpent.
• Mix of the week: a mix for The Wire by Overlook.
• At Dennis Cooper's: Magic Shop Internationale.
• Shadow In Twilight by Pram.
• The Feathered Serpent Of The Aztecs (1960) by Les Baxter | The Serpent (In Quicksilver) (1981) by Harold Budd | Black Jewelled Serpent Of Sound (1986) by Dukes Of Stratosphear