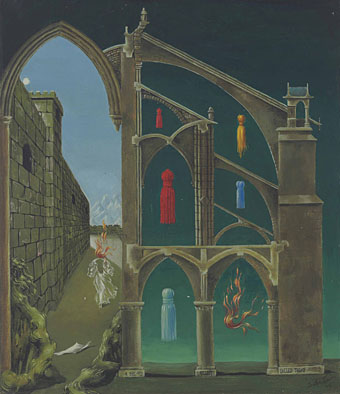 A Mrs Radcliffe Called Today (1944) by Dorothea Tanning.
• Darran Anderson on how the Bauhaus kept things weird. "Many imitators of the famous art school's output have missed the surreal, sensual, irrational, and instinctual spirit that drove its creativity."
• Notes on the Fourth Dimension: Hyperspace, ghosts, and colourful cubes—Jon Crabb on the work of Charles Howard Hinton and the cultural history of higher dimensions.
• "[Edward] Gorey is slowly emerging as one of the more unclubbable American greats, like Lovecraft or Joseph Cornell," says Phil Baker.
The label "homosexual writer" stuck for the rest of his career, with Purdy confined to what Gore Vidal called "the large cemetery of gay literature…where unalike writers are thrown together in a lot, well off the beaten track of family values". In later years, Purdy moved further off the beaten track, as much by intention as circumstance. "I'm not a gay writer," he would tell interviewers. "I'm a monster. Gay writers are too conservative."

Speaking to Penthouse magazine in 1978, Purdy said being published was like "throwing a party for friends and all these coarse wicked people come instead, and break the furniture and vomit all over the house". He added that, in order to protect oneself, "a writer needs to be completely unavailable".

Andrew Male on writer James Purdy
• The Necessity of Being Judgmental: Roger Luckhurst on k-punk: The Collected and Unpublished Writings of Mark Fisher.
• Faunus: The Decorative Imagination of Arthur Machen, edited by James Machin with an introduction by Stewart Lee.
• More James Purdy: "His poetry displays a softness that readers of his fiction might not expect," says Daniel Green.
• Drag Star! is a 150,000-word interactive novel/text adventure by Evan J. Peterson.
• At Dangerous Minds: Dave Ball discusses his years as the other half of Soft Cell.
• Daisy Woodward on the story of radical female Surrealist Dorothea Tanning.
• Inside the bascule chamber: photos of Tower Bridge, inside and out.
• Tim Smith-Laing on the meaning of Miró's doodles.
• Galerie Dennis Cooper presents…Emma Kunz.
• rarecinema: a shop at Redbubble.
• The Fourth Dimension (1964) by The Ventures | Dimension Soleils (1983) by Gilles Tremblay | Into The Fourth Dimension (1991) by The Orb