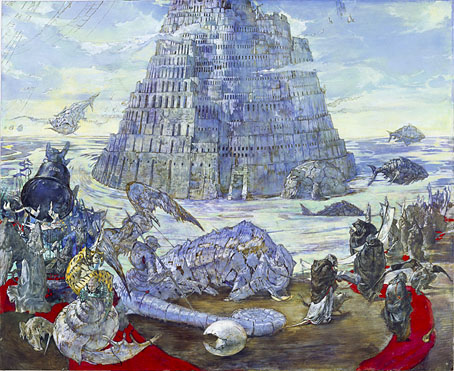 A painting from the Projekt Babelturm series by Wessi.
• "The first thing I would say is that I have no idea what authentic psych music is, and I have no wish to pursue that either. To me the idea of real psych is a paradox. I can't see how you can have such a thing as real psychedelia when the whole thing is based on a psychedelic drug that gives you hallucinations and illusions and layers and layers of unreality." Rob Chapman talking to Ben Graham about his new book, Psychedelia And Other Colours.
Elsewhere in a rather psychedelic week: Rob Young reviewed Chapman's book for the New Statesman; Dangerous Minds posted "Hypnotic video of how a psychedelic masterpiece is made"; and in Germany a homeopathy conference "ended in chaos in Germany after dozens of delegates took a LSD-like drug and started suffering from hallucinations."
• Coming soon from Dark Entries (so to speak), another collection of Patrick Cowley's music for gay porn films.
• Jonathan Barnbrook works some quotes from JG Ballard into the British Road Sign Project.
• "Sorcery is more popular than football in Morocco," says writer and filmmaker Abdellah Taïa.
• "If you're going to make something, you should try and be wild," says Mica Levi.
• Coca-Cola Milanese: Patrick Ellis considers the state of the world's fair in 2015.
• Hear two pieces from Collapse, the forthcoming album by Drew McDowall.
• Mix of the week: Secret Thirteen Mix 162 by Ketev (Yair Elazar Glotman).
• Emptyset's Signal transforms Earth's ionosphere into sound art.
• Paul Laffoley: The Force Structure of the Mystical Experience.
• Fuck off, Star Wars, Ben Wheatley's High Rise is on its way.
• Psychedelic Ride (1967) by The Ides | Psychedelic Warlords (Disappear In Smoke) (1974) by Hawkwind | Psychedelic Sewing Room (1989) by Bongwater