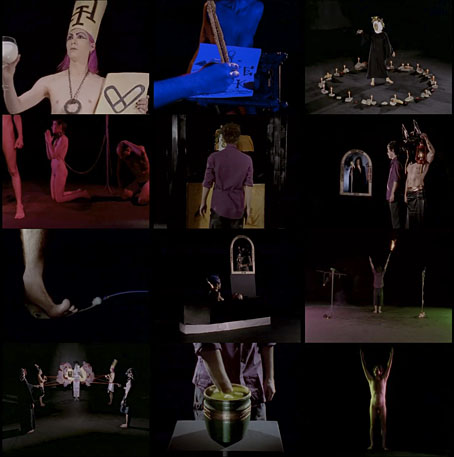 A couple of Austin Spare-related news items arrive in the same week so it's worth linking again to Earth: Inferno (2003), a short film by Mor Navón & Julián Moguillansky based on the book by Austin Osman Spare. This is a production I have to damn with faint praise by being pleased that Spare is the focus of the work while being disappointed in the film as a whole. Despite the elaborate costumes, careful tableaux and copious nudity, Earth: Inferno confirms that an occult film needs to be more than a record of people dressing up and gesturing hieratically. If nothing else, occult rituals transform the perceptions of those involved, and this quality should be represented or implied in any film dealing with magical operations. The films of Kenneth Anger and Derek Jarman show different approaches, with the raw image transformed by superimposition, exaggerated grain, accelerated/decelerated motion, and so on. Inauguration of the Pleasure Dome and In the Shadow of the Sun are examples to follow. And now the news:
• Lost Envoy: The Tarot Deck of Austin Osman Spare, edited by Jonathan Allen & Mark Pilkington. Out later this year from the fabulous Strange Attractor.
• Surrealism, Austin Osman Spare and the Occult Underground of 1890s and 1990s London:
Nadia Choucha discusses the context and evolution of her ground-breaking book, Surrealism and the Occult, first published in 1991. The book traces the evolution of Surrealist ideas and situates them within the occult currents of fin-de-siècle European culture, revealing how these currents infused the work of various thinkers and artists in their quest for the 'marvellous'. The work of Austin Osman Spare is also discussed as a way of comparing and contrasting his methods and techniques with those of the Surrealists. With the 25th anniversary of the publication of the book approaching, this evening will also present an analysis of the work as occurring within a unique historical and cultural moment.
Jun 23rd, 6:30 pm–8:00 pm at the Last Tuesday Society, London.
Previously on { feuilleton }
• A Book of Satyrs by Austin Osman Spare
• Spare things
• Dreaming Out of Space: Kenneth Grant on HP Lovecraft
• MMM in IT
• Abrahadabra
• Murmur Become Ceaseless and Myriad
• New Austin Spare grimoires
• Austin Spare absinthe
• Austin Spare's Behind the Veil
• Austin Osman Spare