Art by David Ho.
This may be a frustrating post for some since it concerns a limited edition anthology that sold out almost as soon as it was announced a year or so ago. Even though the book was published last year it's taken a few months for my copies to arrive. A Mountain Walked is a collection of Cthulhu Mythos stories compiled by leading Lovecraft scholar ST Joshi, and published in the US by Centipede Press. Anyone familiar with Centipede's more luxurious volumes will know that they don't do things by halves, and this weighty tome is no exception: a large-format hardback (the signed edition is also cased), with heavy paper stock, colour printing, tinted sheets and a bulk that runs to almost 700 pages.
Art by David Ho.
Many of the stories are reprints but there's also new material from contributors including Thomas Ligotti, Neil Gaiman, Caitlín R. Kiernan, Laird Barron, the late Michael Shea (to whom the book is dedicated), Patrick McGrath, TED Klein, Gemma Files, Ramsey Campbell and many others. The artwork also ranges widely; I'd not seen anything by David Ho before but he's very good, hence the samples shown here. But there's also a variety of other work, even a Lovecraftian Peanuts comic strip by Julien Baznet. I was pleased that my Cthulhoid picture was placed with the introduction, it makes up for my never having responded to Mr Joshi when he wrote to me years ago asking if I'd be interested in contributing something to Necronomicon Press.
Since the book was so successful there's been talk of doing a cheaper reprint. In the meantime, bloated Lovecraftian plutocrats (Yuggothcrats?) will find very expensive copies for sale on eBay. A few more page samples follow.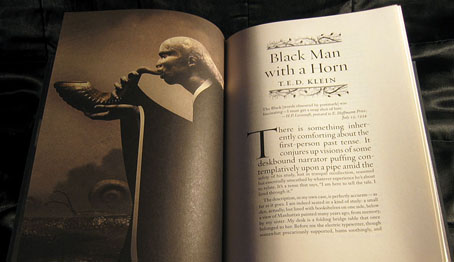 Art by David Ho.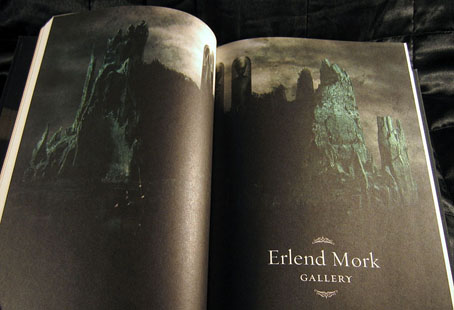 I'd not come across the work of Erlend Mørk before but I like this variation on Arnold Böcklin's The Isle of the Dead.
Art by David Ho.
Art by Zdzislaw Beksinski.
Art by Zdzislaw Beksinski and David Ho.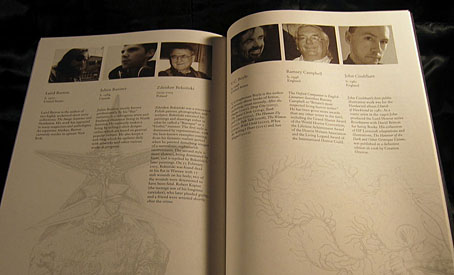 Some of the contributor pages.
Elsewhere on { feuilleton }
• The Lovecraft archive