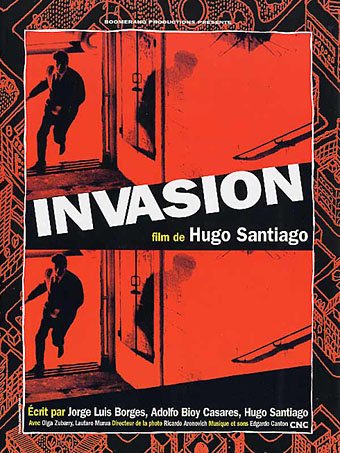 From a film adapted from Borges to a film co-written by the man himself. Invasion (1969) is not to be confused with the British science fiction film of the same name made three years earlier, this is an Argentinian production and a much stranger piece of work. Hugo Santiago is an Argentinian director who moved to France where he worked for a while as assistant to Robert Bresson before establishing himself with this debut feature. Borges' co-writer was his friend and regular collaborator Adolfo Bioy Casares.
I've not watched this yet, the two copies on YouTube are in Spanish with no subtitles but this is a blog with an international readership so there's no need to exclude it on that account. Even without subtitles the film is visually intriguing, possessed of a moody and enigmatic style which online reviewers compare favourably to Antonioni and some of the Nouvelle Vague directors.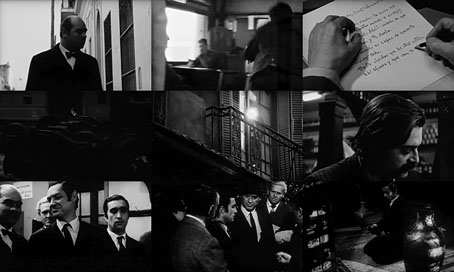 In 1957, a small group of middle-aged men fight a clandestine battle against forces quietly invading and taking control of their city, Aquilea. Enigmatic in its story-telling, Hugo Santiago's once-lost film obscures the motivations of either side, leaving only a series of moves and counter-moves that evokes past dictatorial oppression and those still to come.
This post at Make Mine Criterion—a site dedicated to potential Criterion DVD releases—goes into considerable detail examining the film they describe as "part fantasy, part science fiction, part political thriller". Given this and the rest of the film's evident qualities it's surprising it isn't better known. I only have one Borges biography, The Man in the Mirror of the Book (1996) by James Woodall, but there's no mention in there of Santiago's film or of The Others (1974), a later Santiago feature that was also scripted by Borges and Bioy Casares. For those wishing to pursue the film further there are subtitles available if you can be bothered searching for them then trying to synch them up with a YT rip. It might be better to look for a Spanish DVD and hope it has a good choice of subtitles.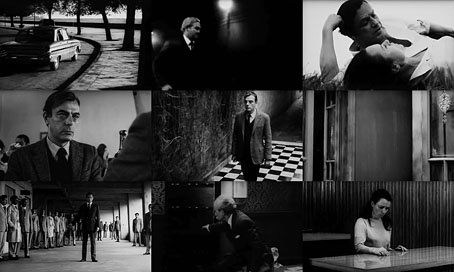 Previously on { feuilleton }
• Spiderweb, a film by Paul Miller
• The Library of Babel by Érik Desmazières
• Books Borges never wrote
• Borges and I
• Borges documentary
• Borges in Performance