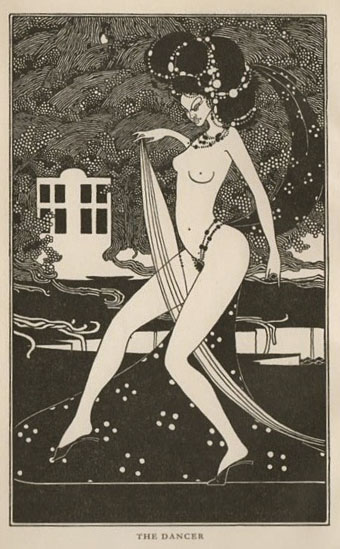 The Dancer (1967) by Antony Little.
My thanks to Sweet Jane this time for alerting me to her post about a series of Beardsley-inspired illustrations from 1967 by Biba designer Antony Little. The Wandering Jew and Other Stories was the first translation in English of Apollinaire's 1910 collection L'Hérèsiarque et Cie. I've known about this book for a while but few of the illustrations have been on view anywhere until this post. There are eight in all, each of them very adeptly capturing different phases of Beardsley's drawing style, from the spare black-and-whites to the more detailed renderings seen in his later work. The drawing below is another in the series from a post of Callum's which also includes a favourite of mine by Beresford Egan.
Little's designs, and the prominence of the Biba stores, did much to make Art Nouveau in general, and Beardsley in particular, a crucial component of London fashion in the late 1960s. For more on that subject see this Sweet Jane post featuring yet more Beardsley borrowings and monochrome design, plus Osborne & Little's fantastic Chinese Dragon wallpaper which made a memorable appearance last year in Only God Forgives.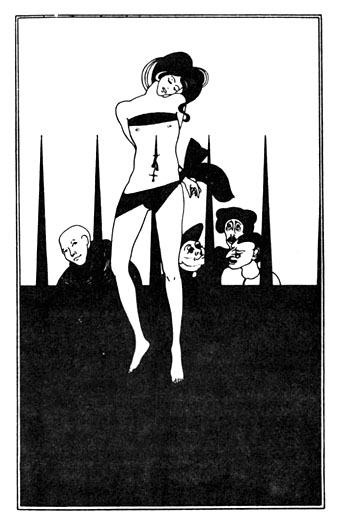 Elsewhere on { feuilleton }
• The illustrators archive
Previously on { feuilleton }
• Aubrey in LIFE
• Beardsley reviewed
• Aubrey Beardsley in The Studio
• Ads for The Yellow Book
• Beardsley and His Work
• Further echoes of Aubrey
• A Wilde Night
• Echoes of Aubrey
• After Beardsley by Chris James
• Illustrating Poe #1: Aubrey Beardsley
• Beardsley's Rape of the Lock
• The Savoy magazine
• Beardsley at the V&A
• Merely fanciful or grotesque
• Aubrey Beardsley's musical afterlife
• Aubrey by John Selwyn Gilbert
• "Weirdsley Daubery": Beardsley and Punch
• Alla Nazimova's Salomé