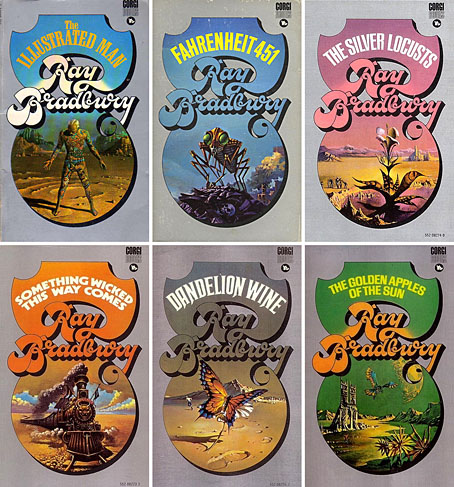 I always liked these paperback covers, a very of-their-time series published by Corgi Books in the UK from 1969 to 1970. A sea of metallic silver ink surrounded the paintings by Bruce Pennington. Seeing them together makes me wish I had the full set.
Mr. Electrico was a beautiful man, see, because he knew that he had a little weird kid there who was twelve years old and wanted lots of things. We walked along the shore of Lake Michigan and he treated me like a grown-up. I talked my big philosophies and he talked his little ones. Then we went out and sat on the dunes near the lake and all of a sudden he leaned over and said, I'm glad you're back in my life. I said, What do you mean? I don't know you. He said, You were my best friend outside of Paris in 1918. You were wounded in the Ardennes and you died in my arms there. I'm glad you're back in the world. You have a different face, a different name, but the soul shining out of your face is the same as my friend. Welcome back.

Ray Bradbury's life was like a Ray Bradbury novel. From an amazing interview at the Paris Review.
Some memorial links:
• The New Yorker unlocked two Ray Bradbury stories.
• Evan says "Loves, did you know Bradbury was a poet? Now you do."
• A man who won't forget Ray Bradbury by Neil Gaiman.
Elsewhere on { feuilleton }
• The book covers archive
Previously on { feuilleton }
• The fantastic and apocalyptic art of Bruce Pennington