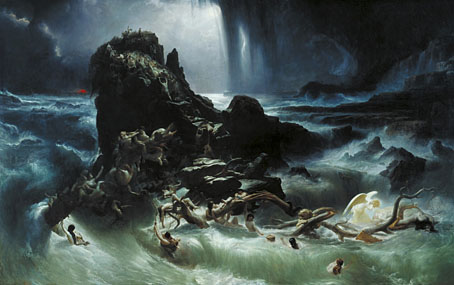 Since John Martin's tumultuous canvases are back in the news it's worth remembering another 19th-century painter of Biblical cataclysm, Francis Danby (1793–1861), whose enormous The Deluge (1840) used to hang in the same room as the Martins at Tate Britain. Danby was a contemporary of Martin although not as enthusiastic about this kind of subject matter. Visions of apocalypse proved to be popular, however, so Danby painted his Flood and similar works with reluctance. (Even Turner wasn't above painting the occasional disaster.) Danby's Deluge impressed me as much as Martin's work when I first saw it not least for its having some believable human figures which give the vast canvas a tragic dimension. Martin's figures are perfunctory and invariably dwarfed by the scale of events.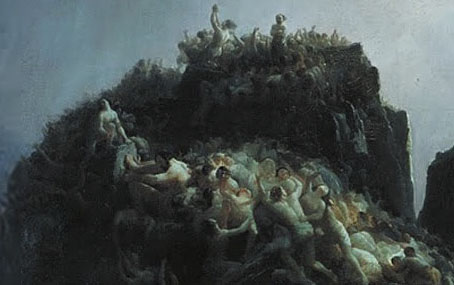 These details are from the Google Art Project which unfortunately don't show us as much detail as they might. This is one of those paintings which encourages a lengthy contemplation, with a composition that draws the eye away from the swirling waters to a glowering sun and the shape of Noah's ark on the distant horizon.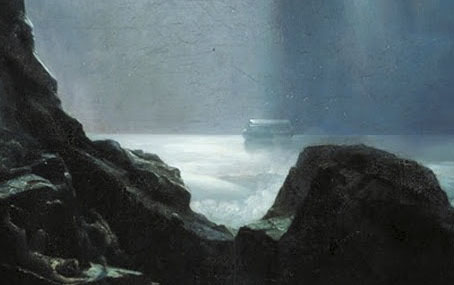 I've always been intrigued by the curious detail of the angel caught in the flood, and the even more curious detail of a drowned giant beside it. For the first time, however, I've noticed that the angel is peering into the face of a dead woman draped over the giant's body. Paintings such as these often toured the country accompanied by the artist responsible who would lecture a paying audience about the various details. Besides the storytelling Danby gives the water in the foreground an astonishing transparent quality which Google's photos can't replicate. All the more reason to see his paintings for yourself if you're in London.
• Francis Danby at Tate Britain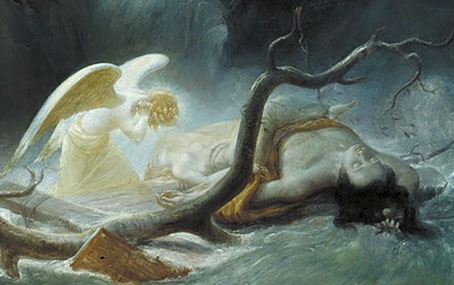 Previously on { feuilleton }
• John Martin: Heaven & Hell
• Darkness visible
• Death from above
• The apocalyptic art of Francis Danby