Apiphobia (2011) by Anonda Bell.
A couple of exhibitions opening this week for those in the New York area. Hive Culture: Captivated by the Honeybee is at the Glyndor Gallery at Wave Hill where 18 artists present works inspired by our favourite pollinating insects:
Painting, prints, sculpture, photography and video are featured, by artists Jennifer Angus, Anonda Bell, Deborah Davidovits, Anda Dubinskis, Cara Enteles, Rose-Lynn Fisher, Sally Gall, Hope Ginsburg, Talia Greene, Judi Harvest, Rob Keller, Andrea Lilienthal, Holly Lynton, Lenore Malen, Julia Oldham, Michelle Rozic, Jeanne Silverthorne and Draga Šušanj.
This isn't solely an art exhibition. In October Wave Hill will be staging a series of bee- and honey-related events, details of which can be found on their press release (PDF).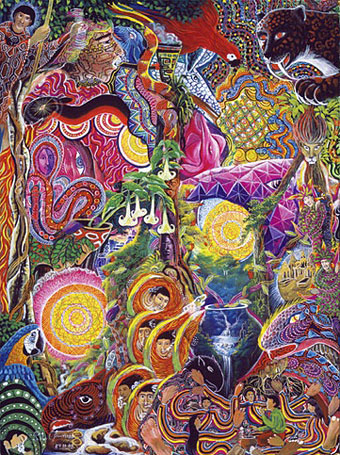 El Encanto de las Piedras by Pablo Amaringo.
Over at the ACA Galleries, Shamanic Illuminations which opens on Thursday will feature the art of Pablo Amaringo, Alex Grey and Mieshiel. There's little detail at the moment on their website but they have a preview of the paintings including a number of Amaringo's vivid, ayahuasca-inspired works which are psychedelic in every sense of the word. Shamanic Illuminations runs from September 15 to October 22. Via Phantasmaphile.