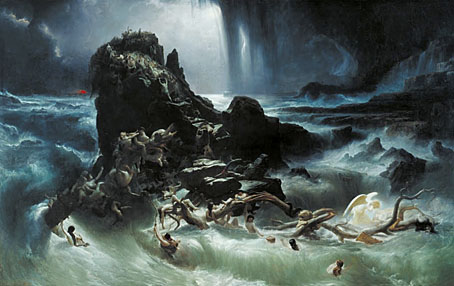 The Deluge (1840).
In the days before cinema and the likes of Roland Emmerich, people had to visit galleries or see touring exhibitions of huge paintings for their fill of artistic cataclysm. I discovered some of these works on my first visit to the Tate Gallery (now Tate Britain), aged 13. I was there to see favourite pictures by the Pop artists and Surrealists and so was completely unprepared for the room of three John Martin paintings and the awesome (and enormous) The Deluge by Francis Danby (1793–1861). These were pictures that never appeared in conventional art histories although subsequent scouring of libaries revealed at least one book devoted to Martin's scenes of Biblical destruction. Danby, on the other hand, remained obscure, and for years this single painting was the only work of his that I'd seen.
Over the years I've come to prefer The Deluge to many of Martin's paintings. His figures are larger and the draughtsmanship is better, the composition is more developed and the technical qualities (despite complaints in the article below) are superb. Like many painters of this period, Danby had great skill at rendering the translucence of water and the gorgeous texture of the waves in this painting was one of the first things to strike me (something that's impossible see in books or online reproduction). Closer examination reveals detail of a kind that Martin usually buries or ignores, from the tiny ark sailing away on the horizon, to the lion clutching desperately at a branch to escape the water. Most curious of all, in the far right the painter has stranded a pair of anomalous Biblical figures, a glowing angel and what appears to be a drowned giant. The Deluge is probably Danby's most accomplished work so it's good to know it remains on public display.
The following article is seventeen years old and remains the only newspaper or magazine feature I've seen about Danby's work to date.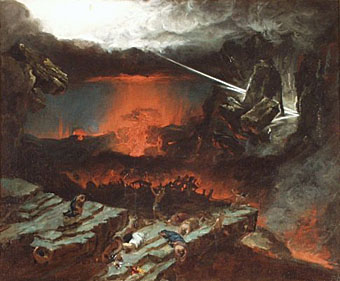 An Attempt to illustrate the Opening of the Sixth Seal (1828).

Darkness Visible
Many of the sombre, apocalyptic works by the nineteenth-century painter Francis Danby have become darker still as the paint and varnish have deteriorated over the years. But now some have been successfully restored for a retrospective of his work.
Andrew Graham-Dixon
Saturday, February 11th 1989
The Independent
FRANCIS DANBY'S The Upas, or Poison Tree in the Island of Java, the smash sensation of the annual British Institution exhibition of 1820 and one of the most ambitious narrative paintings of its time, has languished in the obscurity of the V&A's basement for more than a century. Recently restored, it is the focal point of the Danby retrospective that has been mounted jointly by the Bristol City Museum and Art Gallery and the Tate Gallery. The Upas Tree marked Francis Danby's London debut, and in some style. Measuring 66in by 99in, Danby's gloomy canvas was an enormous calling-card, his way of announcing that here, from provincial Bristol (via Ireland, his place of birth), was a young painter to be reckoned with.
The painting's subject was fashionably exotic, if a little obscure. In a barren landscape of towering, craggy outcrop and plunging ravine (Java, you presume, imagined by a Bristolian, the Avon Gorge disguised for effect), and littered with the odd skeletal remain, a figure holds its head, reeling away from the poison tree of the title. Richard Redgrave, in A Century of Painters of the English School (1866), explains the story: "This fabulous tree was said to grow on the island of Java, in the midst of a desert formed by its own poisonous exhalations. Its poison was considered precious, and was to be obtained by piercing the bark, when it flowed forth from the wound. So hopeless …. and so perilous was the endeavour to obtain it, that only criminals sentenced to death could be induced to make the attempt, and as numbers of them perished, the place became a valley of the shadow of death, a charnel-field of bones."
The Upas Tree, as far as its early nineteenth-century audience was concerned, had the lot: a touch of the East, a grandly sublime landscape in the Turner mould, a frisson of horror and even a moral in its parable of greed getting its come-uppance, a seeker after gain stranded in his own just desert. Even Danby's dour tonalities seem to have struck a chord in those reared on the dark sublimities of Ossian and, subsequently, the Romantic poets. "The dinginess of colour in this picture," noted the critic for the London Magazine, "came over us like the darkness of a thundercloud."
The trouble was, Danby's painting rapidly got darker; by 1857, a few years before the painter's death, one observer noted "its defective technical treatment" and concluded that within a few yers it would have degenerated altogether. Now, thanks to the V&A's conservation department, Danby's painting, darkness visible epitomised, is, once again, visible, although much of its left side, almost indecipherably bitumenised, and its ubiquitous crazy-paving of craquelure are reminders that Danby's technique was indeed fatally flawed. Many of his other paintings have not made it into the twentieth century.
Danby has been remembered, rather unfairly, as an irredeemably minor follower of John Martin ("Mad Martin"), the master of awe-inspiring upheaval, of zig-zagging lightning flashes, splitting boulders and multitudes overwhelmed by the forces of God and nature. Danby's position has long been symbolised by the hang at the Tate, where The Deluge hangs opposite Martin's trio of perennially popular Tate-owned biblical epics, The Plains of Heaven, The Last Judgement and The Great Day of His Wrath—outnumbered and outfaced. Yet The Upas Tree shows that, well before he had encountered the work of Martin, Danby had dark and awesome leanings. His relationship to Martin was complicated in more ways than one: Danby always maintained that Martin stole the idea for his own version of The Deluge from a painting he saw in Danby's studio, An Attempt to illustrate the Opening of the Sixth Seal.
Martin was, undoubtedly, the high priest of apocalyptic art, whose Bible-bashing portrayals of furious geological and historical convulsion would later inspire the megalomaniac cinema of Cecil B De Mille and DW Griffith. But Danby was, in his own right, a master of the grand apocalyptic spectacular, even if his decision to paint such subjects seems to have been made with an eye to profit. "The subject is not one after my own heart," he wrote to his patron John Gibbons, concerning An Attempt to illustrate the Opening of the Sixth Seal. But, he added, it was "the sort of picture I am at present most likely to sell".
He did sell it, too, to the fabulously wealthy and somewhat cracked William Beckford, who, as creator of the massive, ill-fated Fonthill Abbey in Wiltshire, must have felt some affinity with Danby's grandiose, megalomaniac picture. John Constable noted the sale, somewhat rancorously, in a letter of 1828 that suggests his grudging interest in, and ultimate contempt for, the kind of art purveyed by Danby and Martin: "There is a grand and murky dream by Danby. It is purchased by Beckford—the subject is from the Revelations but might pass for the burning of Sodom—500gns… I only wish you could see the work which has elicited all this."
Danby threw down the gauntlet to Martin with works like The Delivery of Israel out of Egypt (a multitude of foregrounded Israelites praise the Lord, Moses raises his staff and the waters of the Red Sea close over the hapless Egyptian army) and the depiction of lurid, mountainous cataclysm that was Danby's Attempt to Illustrate the Opening of the Sixth Seal. These were the most successful of his full-blown, widescreen entertainments. Painted in not-so-glorious Danbycolor?"I think I am almost cured of painting dark pictures," he would write in 1825, "but I shall ever like them best"—such paintings nevertheless represent his greatest attempts at high seriousness and, in retrospect, his finest hour.
Danby led a chequered life. Having left Ireland to seek his fortune as an artist, he settled for a while in Bristol—where he painted calm, idyllic landscapes and genre paintings of sugary, Biedermeier charm before making his calculated assault on London. Danby's subsequent success may have annoyed Constable, but he would have his revenge—in 1829, he defeated Danby by one vote in the annual election to the Royal Academy. Sickened by this, heavily in debt and estranged from his wife ("a little red-faced bare-footed wench" he had met in Somerset, who ran off with another Bristolian artist) Danby fled to the Continent with his pregnant mistress. Once there, he lived the life of an indigent itinerant, perpetually in debt, with, on occasion, as many as 11 children to support (the "bare-footed wench" had shipped out their seven children to Danby when he left for Europe).
Danby made a come-back, of sorts, with The Deluge that hangs opposite the Martins in the Tate. Painted in 1839, at the prompting of a dealer-cum-entrepreneur who originally planned to tour it round the country, its 130sq ft of hostile weather and writhing, diminutive bodies put Danby briefly back in the limelight. But Danby was, by this time, disillusioned with the kind of Martinesque grande machine by which he had earned his reputation. He went to live in Exmouth, where he devoted himself to his lifelong love, amateur boatbuilding, and painted vaguely Claudian pictures of becalmed three-masters basking in the glow of a late evening sun.
Some of Danby's finest works are, in fact, the small and extremely unpretentious landscape studies, in watercolour or oil, that he produced throughout his career his studies of Irish landscape, or of London from Primrose Hill, are far more convincingly and freshly worked than many of his drier, more ambitious subject pictures.
Even in some of his most calculatedly "sublime" paintings, Danby can seem more interested in meteorological effects than dire consequences. His extravagant Sunset at Sea after a Storm, its tiny raft-borne figures adrift in unpromising circumstances, was meant to be Danby's answer to Géricault's famous The Raft of the Medusa. But the figures feel irrelevant, an unnecessary narrative graft on to a pure seascape, ragged clouds lit by the glare of a red eye sun.
In Bristol Danby had painted Arcadian landscapes, and his patron, John Gibbons, always maintained that Danby's early Claudian landscape An Enchanted Island was his finest painting. "I have a landscape by Danby," he wrote, "that is Claude all over, but! like it none the less; if a man can pull the bow of Ulysses, to me he is Ulysses."
Living out his days in Exmouth, Danby seems to have found, at last, some kind of tranquillity. He had always been an eclectic painter, working in any of the three categories recognised by contemporary aesthetics—the sublime, the beautiful or the picturesque—seemingly at will, and probably in order to conform with whatever was fashionable or expedient. Danby's last known creative act was not the painting of a picture but, some four months before his death in February 1861, the invention of "a new kind of single-fluked anchor", for which he took out a patent. A small thing, perhaps, but his own.
Previously on { feuilleton }
• The art of Karl Friedrich Schinkel, 1781–1841
• The enigma of Desiderio
• Arnold Böcklin and The Isle of the Dead