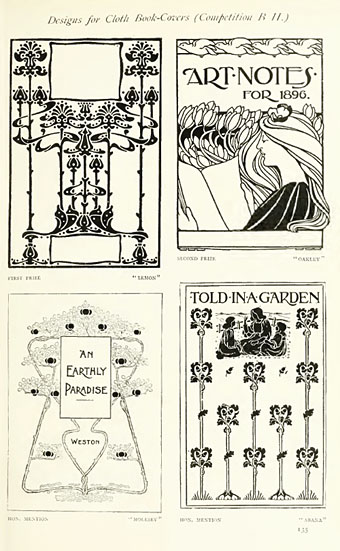 Back in February I posted some pictures from a 1971 collection of Art Nouveau illustration and design, some of which were competition entries from The Studio magazine. The Studio, which later became the long-running Studio International, can be seen from issue 11 onwards at the Internet Archive now that they've started uploading Google's book scans. I've only looked at one of these so far, Volume 11–13 which runs over 850 pages and so takes some time to go through, as do all these rather unwieldy PDF books. The issues are missing their covers and so aren't dated but would appear to be from around 1896 to 1898, one of the final entries being a memorial piece for Aubrey Beardsley who died that year; The Studio was the magazine which had introduced Beardsley to the public only five years earlier.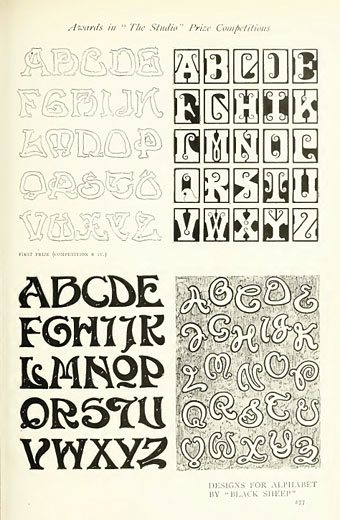 The Studio ran regular competitions among its readers and the examples shown here are from some of those. I especially like these type designs; dare we assume that the "Dorian" design below is named after Dorian Gray? As a whole the magazine is an odd mix of very dull Victorian art of the landscapes and artisans type, with occasional flares of interest when they devote a feature to the emerging Art Nouveau style or profile a Symbolist artist such as Giovanni Segantini.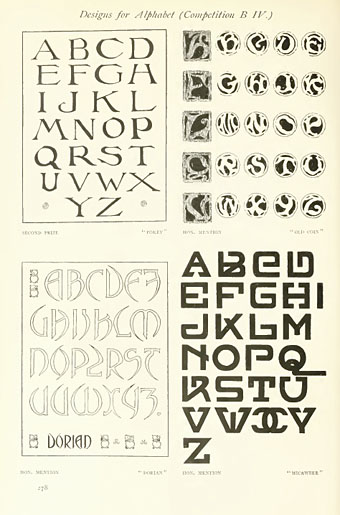 A note for anyone wishing to download Google scans from the Internet Archive: some of the PDF links lead you to a Google page where they're trying to sell you an e-text or get you to buy a book. To see the available files you need to click "All Files: HTTP".
Previously on { feuilleton }
• The Great God Pan
• Art Nouveau illustration
• Jugend Magazine