Will at A Journey Round My Skull turned up some gold this week in the form of several covers from a German periodical, Der Orchideengarten, which ran for 51 issues from 1919 to 1921. This is generally credited as being the world's first fantasy magazine which makes its unaccountable obscurity all the more surprising. Both Will and I first encountered the magazine in Franz Rottensteiner's essential history of fantasy, The Fantasy Book, published by Thames & Hudson in 1978, with a US edition produced by Collier Books. As well as being a wide-ranging history, Rottensteiner's book is profusely illustrated throughout and includes two tantalising and distinctly weird covers from Der Orchideengarten, a magazine which Rottensteiner describes as "one of the most beautiful fantasy magazines ever published." Over the years I've found myself becoming thoroughly acquainted with most of the book's contents as authors were discovered and various gaps filled. One of the few points of obscurity left was that column which describes Der Orchideengarten and those two covers. So you can perhaps appreciate the excitement at seeing more of these rare specimens brought to light.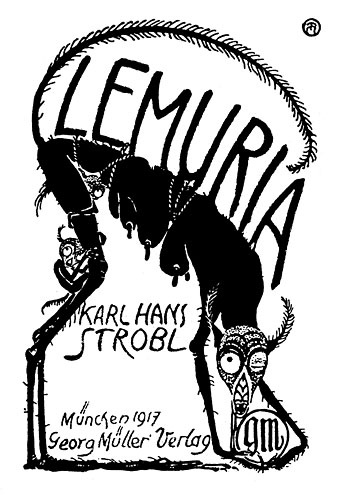 There's no need to repeat the history when you can read it for yourself on Will's page and see the covers. One of the magazine editors was author Karl Hans Strobl whose collection of weird tales, Lemuria, had been published two years earlier. This monochrome copy of the cover design is by Richard Teschner, taken from one of my Art Nouveau design books where it stands out like a rather grotesque sore thumb. I don't know if Teschner was a contributor to Der Orchideengarten but on the strength of this he should have been.
Update: Will posts some interior illustrations.
Elsewhere on { feuilleton }
• The illustrators archive
Previously on { feuilleton }
• The Great God Pan
• Jugend Magazine
• Meggendorfer's Blatter
• Simplicissimus