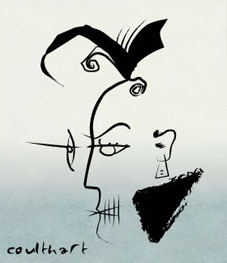 Jessica Helfand at Design Observer draws attention to Mr Picassohead, a site which allows you to create your own Picasso-style portraits. The interface doesn't have as much choice of elements as the Simpsonizer did but messing around with it this afternoon yielded a passable rendering of David Britton's Lord Horror.
This idling reminded me that I've yet to finish reworking the Lord Horror series Reverbstorm which I've been engaged with on and off for the past year. The handful of people actually waiting for this magnum opus should know that other work and new Savoy projects keep intervening at the moment. Anyone who saw the original comics will be aware that pastiching Picasso was a consistent theme from issue five onwards. For those who haven't seen the comics (and few people have…) I've posted a couple of the original Picasso-esque Horrors below, beginning with a more representational view of his Lordship for those unfamiliar with the appearance of the man.
A 1997 portrait which owes much to the style of Burne Hogarth's later Tarzan illustrations.
Reverbstorm 5
Many of the Horror portraits in Reverbstorm were less Picasso-esque than Expressionist or Vorticist. The latter style was very apt for a fascist character like Lord Horror since the Vorticists included among their number fascist apologist Ezra Pound, who gave the group their name, and Wyndham Lewis, who later recanted an early sympathy for Hitler. The figures in the background of this panel and the one below are from Picasso's Guernica, a persistent reference in the series as a whole.
Reverbstorm 5
Reverbstorm 6
The face on the left above was probably the most Picasso-esque of the Horror faces. I think I applied more of a consistent Picasso style throughout the series to the characters of James Joyce and Jessie Matthews.
This is a vector rendering based on a small notebook sketch done after I'd finished most of the work on Reverbstorm. I'm not sure what style you'd class it as; it comes out of the Picasso extrapolations but what began as a process of copying with many of these drawings soon evolved into a style of its own. This piece and the big portrait above are available as designs on a range CafePress products.
As I've said before, any further news about the development of the book edition of Reverbstorm will be posted here. Reverbstorm is some 270 pages of my best artwork so I'm naturally keen to see it published in what will be a definitive edition.
Previously on { feuilleton }
• Finnegan begin again
• My pastiches
• Guernica, seventy years on
• Cubist Cthulhu