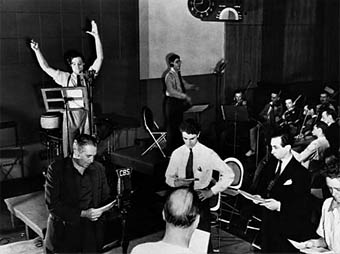 The Mercury Theatre on the air.
Being a long-time fan of both HG Wells and Orson Welles, the latter's radio production of War of the Worlds with the Mercury Theatre group has always held a special fascination. This was staged sixty-nine years ago today, October 30th, 1938, and famously caused panic among listeners who missed the opening and believed they were hearing genuine news reports of an alien invasion. I've often listened to the rather crude recording of the play around this time of year, having owned that recording on vinyl, cassette tape and CD. These days you don't have to buy it, you can head over to the Internet Archive or this Mercury Theatre page and grab an mp3 to discover what all the fuss was about. The recording may be crude but the presentation still strikes me as decades ahead of its time, with a very astute sense of how ordinary people behave when faced with the news media. I've always loved the attention to detail, such as the moment when the man who's been interviewed at the crash site wants to carry on talking and the interviewer has to shut him up. That same verisimilitude was carried over to the newsreel footage in Citizen Kane (which was pretty much a Mercury production for cinema) and it was those moments in the radio play which helped encourage people to think that what they were hearing was real, not drama.
Screenwriter Howard Koch, who later polished the rudimentary draft script that became Casablanca, is credited as writer of the play but the adaptation was a group effort according to Koch in his book The Panic Broadcast (1970). The idea of presenting Wells's story as a series of news bulletins came from Orson Welles and producer John Houseman, with Koch scripting the scenes and dialogue. Most of the other Mercury adaptations took a more traditional approach and if you want some spooky listening for Halloween I'd suggest you try their version of Dracula, also from 1938. The story is severely truncated, of course, but Agnes Moorehead is very impressive as Mina, there's some remarkable music from Bernard Herrmann and Welles plays both Arthur Seward and the sinister Count.
Previously on { feuilleton }
• Alexandre Alexeieff and Claire Parker
• The Door in the Wall
• Voodoo Macbeth
• War of the Worlds book covers