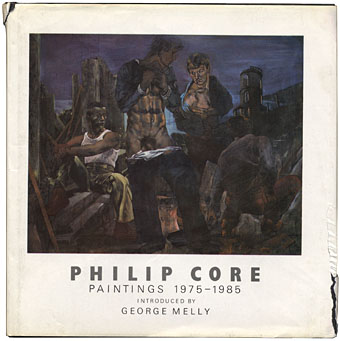 A solidly gay day for secondhand books with the discovery of two relatively scarce items by gay artists. Philip Core is probably more well-known as a writer than a painter, author of The Original Eye: Arbiters of Twentieth Century Taste and the masterful Camp: The Lie that Tells the Truth (both 1984 and both out of print, unfortunately). His paintings predominantly feature unclothed men but present these in a far more painterly style than one usually sees from gay artists, the approach too often being a kind of kitsch photo-realism that tends towards soft (or hard) porn. A shame that this volume is rather battered as it seems to be a rare book. Core died of AIDS in 1989 but his paintings are still being bought and sold, gay art being one genre that never lacks for an audience.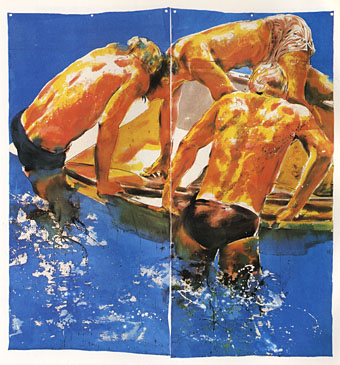 The Bermuda Triangle by Philip Core (1982).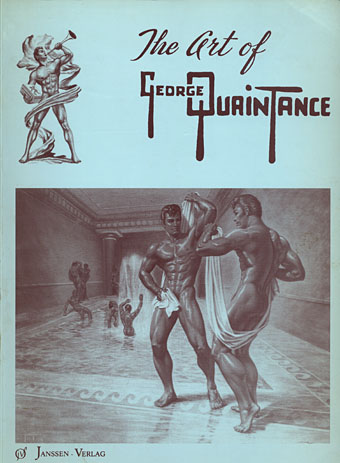 And speaking of kitsch…. George Quaintance (1902-1957) was a pioneer of a variety of beefcake erotica that isn't particularly to my taste but which today looks distinctly…quaint? Also distinctly old-fashioned since most of his men have Burt Lancaster quiffs, even the alleged Spartans towelling themselves on this book jacket. The reproductions in the book, an 1989 exhibition catalogue from the Janssen Gallery, Berlin, are all black and white which means that much of the atmosphere of the originals is lost. But it does contain several pages of Quaintance's magazine covers and period ads for his work.
Siesta by George Quaintance (1952).
Quaintance's world is a largely female-free dreamscape of perfectly-muscled glamour boys showing their bodies to one another but never doing anything so salacious as kissing. This is a utopia of good clean fun and fifty years ago was more than enough to pack an erotic charge for men starved of homoerotic imagery. From our perspective today it looks rather innocent; even the bulges in their jeans are restrained by comparison with the later excesses of Tom of Finland. All the stereotypes from magazines like Physique Pictorial (which featured Quaintance's work) are in place: cowboys, sailors, matadors, historical scenes of masters and slaves. Quaintance adopts the same tricks as Weird Tales cover artist Margaret Brundage, showing us as much naked flesh as possible but always ensuring that a shadow, wisp of smoke or trail of cloth falls across the forbidden area (this also ensures that your eye is drawn to that very place). Many of his scenes could almost be masculine versions of Brundage's often vague illustrations for the pulps, a number of which caused a stir among the fantasy readers of the Thirties with their lesbian-inflected displays of bondage and whippings. Quaintance has an equivalent series of pictures showing naked men valiantly struggling with serpents or demons in scenes reminiscent of the superior (if robustly heterosexual) Frank Frazetta.
Hercules by George Quaintance (1957).
Unlike Philip Core, Quaintance is well-represented on the web. And should you require it, Taschen reprinted the whole run of Physique Pictorial.
• Official A Quaintance site
• A gallery of Quaintance art
• George Quaintance at GLBTQ.com
Elsewhere on { feuilleton }
• The gay artists archive