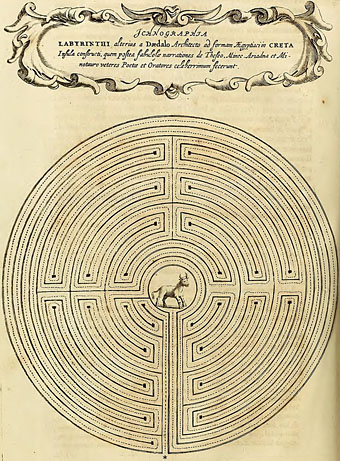 The Labyrinth of Crete from Turris Babel (1679) by Athanasius Kircher.
• "My self appointed tutors were, in the order I discovered them, Robbe-Grillet, Borges, Nabokov, and Burgess. All of them associable in one way or another with labyrinths, all practitioners of non-linearity, all happy not to explain, all precursors of Godard's celebrated and liberating 'a beginning a middle and an end but not necessarily in that order.' Burgess, of course, also came from the provincial lower middle class, and gave the address at Benny Hill's funeral." Jonathan Meades talking to Owen Hatherley about (what else?) the tastes and opinions which were always to the fore in his long-running series of TV films about architecture, art, food, and culture in general. This time last year I rewatched Meades' TV oeuvre thanks to downloads from MeadesShrine and YouTube. It's no surprise to learn that he won't be making any more of these films now that the increasingly useless BBC has decided that the arts-oriented BBC 4 will be an archive channel only. The days are long past when someone like Meades would be given a new six-part series, or an artist like Leonora Carrington 50 minutes of BBC 1 airtime.
• Food and film: "As with so much else in his life, [Alfred] Hitchcock's accomplice in this peculiar gastronomic odyssey was Alma Reville, his wife, best friend, longest-serving creative collaborator, and, to quote Hitchcock, 'as fine a cook as ever performed miracles in a domestic kitchen.'" Edward White on Alma Reville and the status of food in the Hitchcock household.
• Food and books: "The supply of hides for parchment was always dependent on the dietary preferences of the local population… For hundreds of years, the transmission of knowledge had depended on carnivorous appetites and good animal husbandry." Ross King on the laborious process of bookmaking in the 15th century.
• At Wormwoodiana: Sphinxes & Obelisks, a new collection of essays "on rare books and recondite subjects" by Mark Valentine.
• New music: crystallise, a frozen eye by James Ginzburg, and Multiverse by Gadi Sassoon.
• At Dennis Cooper's: Spotlight on…Amos Tutuola The Palm-Wine Drinkard (1952).
• At Spoon & Tamago: Step inside the miniature worlds of Tatsuya Tanaka.
• Mixes of the week: 30 years of People Like Us, and Fact Mix 803 by oxhy.
• And all that jazz: innovative album covers from the 1950s on.
• In praise of Edward Gorey, style icon.
• Labyrinthe (1995) by Zbigniew Preisner | Labyrinth (2010) by Chrome Hoof | The Seventh Labyrinth (2018) by Pye Corner Audio