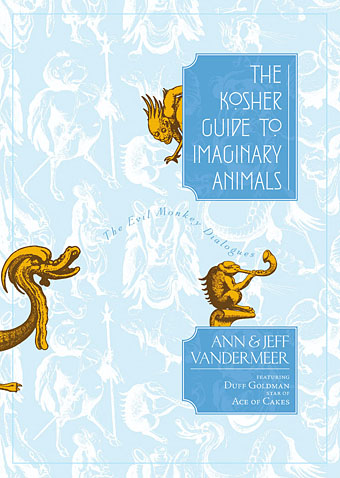 The Kosher Guide to Imaginary Animals by Ann and Jeff VanderMeer (and sporting my design inside and out) is now in print. The grotesque creatures on the jacket and inside are from a celebrated set of prints by Arent van Bolten.
• More VanderMeeria: my cover for Jeff's novel Finch continues to garner attention. Artist John Picacio selected it as part of his contribution to this discussion of genre cover designs (thanks John) and io9 followed up by choosing it from SF Signal's selection.
• Graphic design: the Ballets Russes at BibliOdyssey; Julian Montague's "books from an invented intellectual history" at A Journey Round My Skull; Women, Snakes and Stalkers, book covers from the PK (Indo-Iranian languages and literatures) section of the University of Chicago's Regenstein library (also here); I want this book: Arabesque – Graphic Design from the Arab World and Persia.
• Photography: Richard Davies' documenting of Russia's wooden churches; Dave Walsh's fata morgana mirages in the Arctic.
• Illustration: Jacob Escobedo at Sci-Fi-O-Rama; Mahlon Blaine reprinted.
• The gays: Oliver Frey (aka Zack) has originals of his erotic art for sale; 100 is the third book of erotic portraits from photographer Dylan Rosser.
• Silent Porn Star is back. Related: Susie Bright praises sexual expression.
• The Libel Reform Campaign is trying to reform England's egregious libel laws. Sign their petition here.
• RIP: Victor Arwas, art collector, writer and scholar; Alex Chilton, musician and record producer.
• The record sleeve that's also the record player.
• Song of the week: Guess I Was Dreaming by The Fairytale (1967).