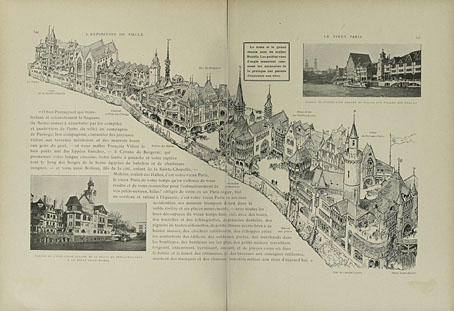 After several posts about Albert Robida it seems more-or-less mandatory to write something about his spectacular creation for the Paris Exposition Universelle of 1900. "Vieux Paris" was an elaborate theme park-style attraction that sought to recreate some of the lost buildings of medieval Paris on the right bank of the Seine, a short distance from the Trocadero. (The international pavilions were situated on the opposite bank.) Robida is remembered today for his science fiction but he was given this job as a result of books such as Paris de siècle en siècle; le coeur de Paris, splendeurs et souvenirs (1896) which explored life in the historic city. Vieux Paris was planned by the artist, with the buildings being created by a team of architects under the direction of Léon Benouville. As with modern theme parks, teams of actors and other staff were costumed in order to convey the requisite period flavour. The birds-eye drawing is the best view I've seen of the construction, the pages being from Albert Quantin's L'Exposition du siècle.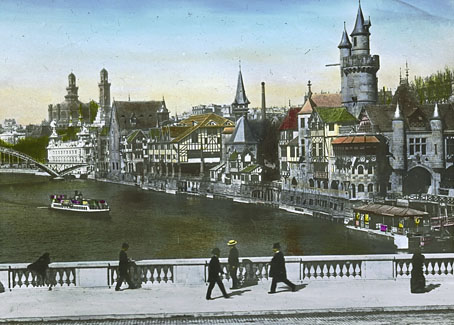 From the Brooklyn Museum's Flickr set.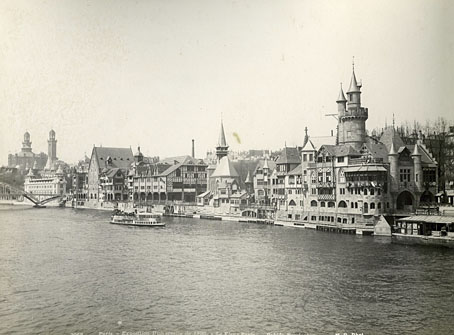 Photo by Michel Berthaud at Luna Commons.
Previously on { feuilleton }
• The End of Books, 1894
• Le Vingtième Siècle by Albert Robida
• La Vie Électrique by Albert Robida
• The Lumière Brothers at the Exposition Universelle
• Le Grand Globe Céleste, 1900
• Tony Grubhofer's Exposition Universelle sketches
• The Cambodian Pavilion, Paris, 1900
• Le Manoir a l'Envers
• Suchard at the Exposition Universelle
• Esquisses Décoratives by René Binet
• Le Palais de l'Optique, 1900
• Exposition Universelle films
• Exposition jewellery
• Exposition Universelle catalogue
• Exposition Universelle publications
• Exposition cornucopia
• Return to the Exposition Universelle
• The Palais Lumineux
• Louis Bonnier's exposition dreams
• Exposition Universelle, 1900