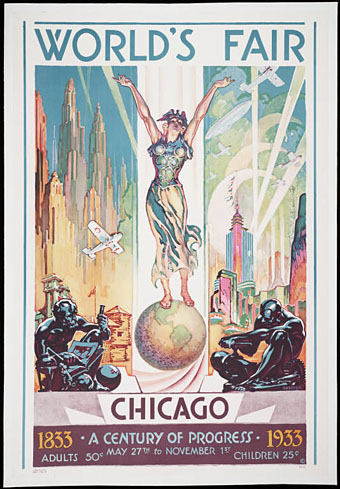 Poster by Glen C Sheffer (1933).
The image galleries at Yale University's Beinecke Rare Book & Manuscript Library have been garnering justifiable attention recently for the quality of their collection. Among the groupings, the World's Fairs and the Landscapes of the Modern Metropolis section immediately caught the attention of this exposition and world's fair fan. An amazing collection of posters, exposition booklets, photos and plans, many of which augment the subjects of previous postings including the 1900 Exposition Universelle. A very brief and cursory selection follows.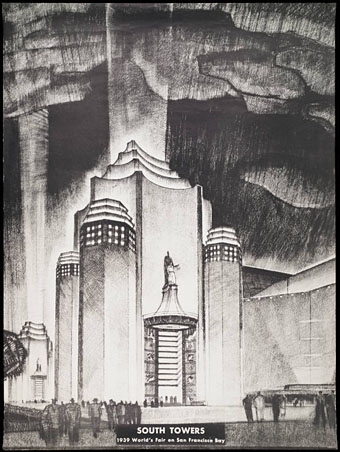 South towers, 1939 World's Fair on San Francisco Bay. No artist credited although it's reminiscent of Hugh Ferriss.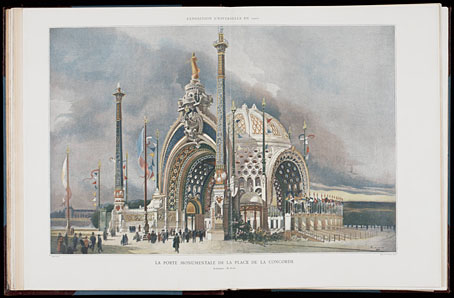 Exposition Universelle de 1900. La porte monumentale de la Place de la Concorde by Goupil.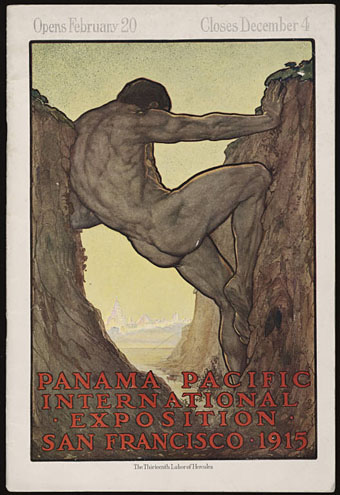 The thirteenth labor of Hercules. No artist credited.
I noted earlier the irony of America's future gay capital using a naked man as a symbol for its exposition. Here's another one from the same year.
Previously on { feuilleton }
• Return to the Exposition Universelle
• The Palais Lumineux
• Louis Bonnier's exposition dreams
• Exposition Universelle, 1900
• The Palais du Trocadéro
• The Evanescent City
• Hugh Ferriss and The Metropolis of Tomorrow