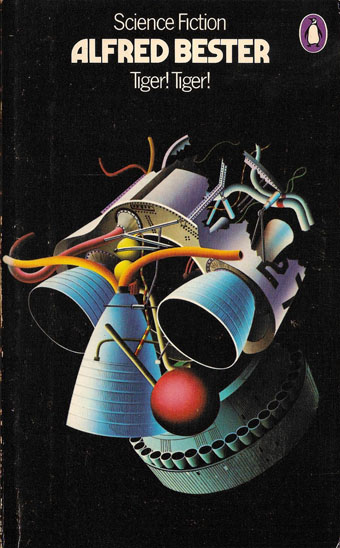 Cover art and design by David Pelham, 1974. The author's name is set in Marvin (see below).
• Revelation of the week is a lengthy, career-spanning interview with Igor Wakhévitch, the French composer whose extraordinary run of albums from the 1970s are cult items in these parts. (Previously) Wakhévitch isn't exactly reclusive but he lives in India, and hasn't recorded anything since the 1980s, so in recent years he wasn't visible or even known much at all outside France. The release in 1998 of a CD collection, Donc…, and a handful of vinyl reissues, brought him out of obscurity, although all the reissues to date have been in limited quantities. Work of this quality really warrants a wider release.
• The Sky Torn Apart is a new album by Paul Schütze, his first for several years. Very good it is too, 56 minutes of growling and glittering atmospherics that could equally suit the enervating heights of summer (as in Wendy Carlos's drone piece from Sonic Seasonings) as the depths of winter, the inspiration being the apocalyptic cycles of Norse mythology.
• At Lambda Literary: Cathy Camper talks to cartoonist Justin Hall about his planned film, No Straight Lines, about the history of queer comics. There's a Kickstarter for the project, and more background detail at QueerClick (NSFW).
• Introducing Marvin Visions, a digital revival of Marvin, a photoset typeface first launched in 1969, and very popular during the 1970s on science-fiction cover designs. Marvin Visions is free for personal use.
• The second number of the relaunched Wyrd Daze—"The multimedia zine of speculative fiction + extra-ordinary music, art & writing"—has arrived.
• At New Noise: Dylan Carlson (again) talking about the influences on his solo album, Conquistador.
• Video Drone: Russell Cuzner talks to Rose Kallal about her audio-visual concerts.
• Mix of the week: a Dark Souls-inspired drone mix from Justin C. Meyers.
• RIP Glenn Branca
• The Ascension (1981) by Glenn Branca | Ascension (1992) by O Yuki Conjugate | Ascension (2014) by The Bug