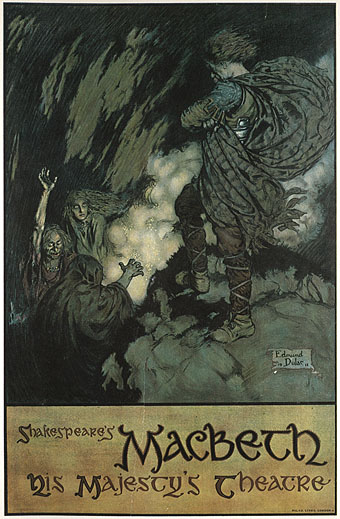 Poster by Edmund Dulac (1911).
This month sees a profusion of events marking the 400th anniversary of Shakespeare's death so here's my contribution, a rundown of Macbeths-I-have-seen on screen and stage. I've mentioned before that Macbeth and The Tempest are my favourite Shakespeare plays, two dramas concerned with magic of very different kinds. Macbeth is the more popular play, not least for being the more easily adaptable: the supernatural dimension may not suit every circumstance but the themes of treachery, fear, paranoia and a murderous struggle for power are universal. This list contains a wide range of adaptations but there are many film versions I've yet to see, including the most recent directed by Justin Kurzel.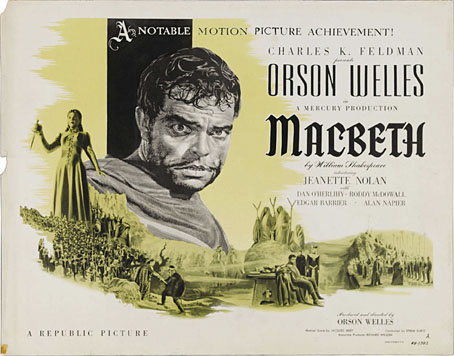 Macbeth (1948), directed by Orson Welles
Orson Welles as Macbeth
Jeanette Nolan as Lady Macbeth
I think the Welles adaptation was the first Macbeth of any kind that I saw so it's fitting that it begins this chronological list. Famously shot over three hectic weeks on the sound stages of Republic Studios, and with sets made from props previously used in cheap westerns, the result is often eccentric. I've a lot of time for Welles as a director but this is one film of his that I've never enjoyed very much. His theatre performances (and productions) of Shakespeare began at school, and he was seldom precious with the texts: Chimes at Midnight is a fusion of several different plays while this version of Macbeth uses the same doctored script that he directed for the Voodoo Macbeth in Harlem in 1936. I don't mind some editing—short scenes such as the witches' meeting with Hecate are often excised—but some of Welles' changes are made to support his belief that the witches are directly responsible for Macbeth's actions, a theory I don't agree with, and which I've never seen given credence elsewhere. This explains oddities such as the appearance of the witches at the very end of the film delivering words from the beginning of the play: "Peace! The charm's wound up."
Worse than this is the decision to have most of the cast speaking with vague Scottish accents (a "burr" Welles called it), something that would work with a Scottish cast but which courts disaster with a group of Americans working in haste. The accents may be warranted by the setting but the words of the play are English ones, free of common Scottish colloquialisms such as "ken", "bairn" and the like. On the plus side, it's good to see Harry Lime-era Welles performing Shakespeare, and the mist-shrouded production has a barbaric quality that Jean Cocteau appreciated. The forked staff that each witch carries is a detail that I've borrowed for drawings on a number of occasions.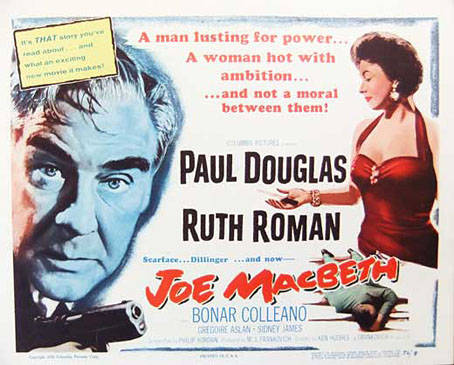 Joe MacBeth (1955), directed by Ken Hughes
Paul Douglas as Joe MacBeth
Ruth Roman as Lily MacBeth
The play reworked as a cheap gangster picture set in the Chicago of the 1930s but made in Britain with a partly American cast. I've only seen this once (and many years ago) but I recall it being pretty ludicrous, not least for another accent problem with the English actors doing bad impersonations of Chicago hoodlums. Anyone who grew up watching the Carry On comedy films has a hard time taking Sid James seriously in heavy roles, and here he plays the Banquo character, "Banky". Joe MacBeth is chiefly notable today for being the first entry in the Macbeth-as-gangster sub-genre; after this there was Men of Respect (1990), Maqbool (2003, an Indian film set in Mumbai), and Macbeth (2006, an Australian film set in Melbourne), none of which I've yet seen.
Throne of Blood (aka Cobweb Castle, 1957), directed by Akira Kurosawa
Toshiro Mifune as Taketoki Washizu
Isuzu Yamada as Lady Asaji Washizu
Kurosawa adapted Macbeth following Noh traditions so this is a much more stylised Shakespeare than his later Ran (from King Lear). But it's still a superb film, beautifully staged and photographed. For a play with witches and a ghost, the spookier side of Macbeth is often neglected but Kurosawa's version is more unnerving than most. The ending, with a besieged Washizu fleeing endless volleys of arrows, is unforgettable.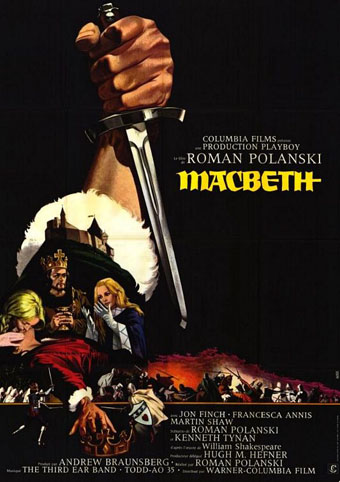 (The Tragedy of) Macbeth (1971), directed by Roman Polanski
Jon Finch as Macbeth
Francesca Annis as Lady Macbeth
Still my favourite of the big-screen adaptations, this film used to be slightly controversial for Lady Macbeth's nudity in one scene, and for the bloody violence which extends beyond the scripted murders to other moments of casual brutality. Critics wondered how Polanski could make a film depicting the slaughter of a mother and her children only two years after his pregnant wife had been murdered by the Manson Family, but this was Polanksi's way of returning to filmmaking; he's always claimed that the film has nothing to do with the events at Ciello Drive.
Kenneth Tynan helped Polanski trim the text, and the pair also adjusted the action to make background character Ross (John Stride) another schemer in the unwinding of events. Polanski's staging is realist throughout, with the asides done as interior monologues, and the windswept landscapes of north Wales and Northumberland standing for Scotland. Lindisfarne Castle, previously seen Polanski's Cul-de-sac (1965), is Macbeth's home. This was the first major role for the saturnine Jon Finch, an excellent, naturalistic performance. Another plus is the Third Ear Band's eerie transmutation of British folk timbres.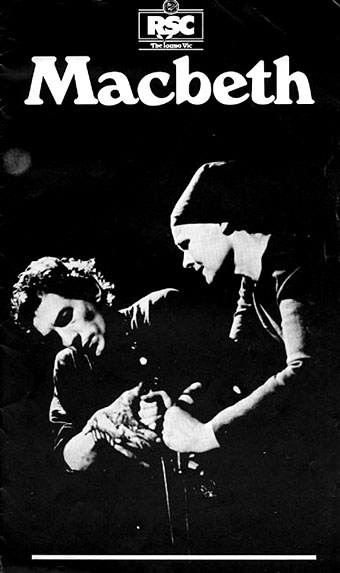 Macbeth (1978), directed by Philip Casson
Ian McKellen as Macbeth
Judy Dench as Lady Macbeth
The gold standard where acting is concerned. Trevor Nunn's production was originally staged by the RSC in 1976, and received so much acclaim that it was reworked by Philip Casson as a TV production two years later. This is a dark production in every way, played amid small pools of light on a pitch-black stage with no sets or furniture beyond a handful of seats. The minimalism puts the focus on the actors, all of whom are astonishingly good. McKellen and Dench are the stand-outs (both won awards) but the cast includes other formidable talents: Bob Peck (Macduff), Roger Rees (Malcolm), Ian McDiarmid (Ross/The Porter), Marie Kean (First Witch), and John Woodvine (Banquo). Few productions communicate a sense of metaphysical evil but this one unfolds like a succession of dark and terrible rituals.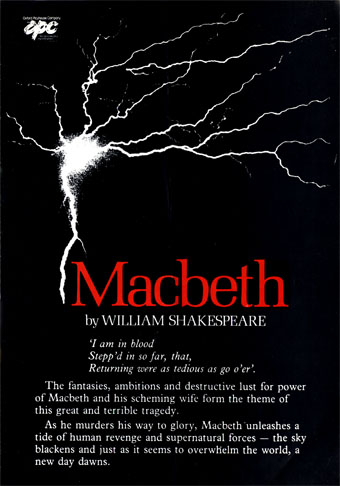 Macbeth (1982), directed by Gordon McDougall
Tim Hardy as Macbeth
Ann Firbank as Lady Macbeth
The first stage production I saw was by the Oxford Playhouse Company at the Grand Theatre, Blackpool, in 1982. This was a 20th birthday treat with friends, and a very enjoyable evening despite the gloomy entertainment. The theatre is one of the smallest in Britain but the performers made the most of the space with another bare-bones production. A scaffolding rig built across the stage provided a raised platform for a musical ensemble who were visible at all times. This gave the production a particular frisson, especially at the beginning when the opening battle was accompanied by a thundering percussive assault. The music was composed by Terry Mortimer who was also one of the performers.
As to the actors, I was less familiar with the play in those days, and so less able to discriminate; I don't recall a great deal apart from them all being of a high calibre. The names of the leads weren't familiar at the time but subsequent searching reveals that both Tim Hardy and Ann Firbank have had lengthy careers in British film and television, and are respected stage actors. I've always liked Steve Lawson's design for the poster and the programme: that lightning strike on a black background makes me think of the cover for An Electric Storm by White Noise.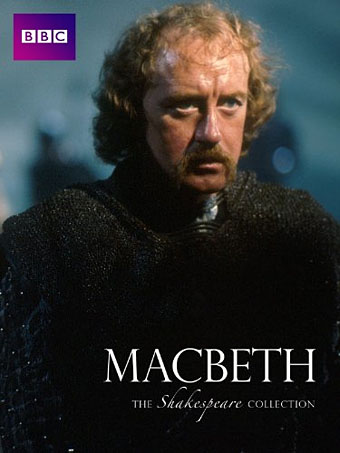 Macbeth (1983), directed by Jack Gold
Nicol Williamson as Macbeth
Jane Lapotaire as Lady Macbeth
From 1978 to 1985 the BBC undertook an ambitious program of staging all of Shakespeare's plays, 37 performances in all. Jack Gold's production of Macbeth followed the established format, being a studio-bound staging with suitable period sets and costumes. The reading is a traditional one, with a Scottish setting (but English accents), the only innovation being the standing stones that populate the witches' blasted heath. There's nothing especially bad about this version but there's nothing exciting or dangerous about it either, a surprise given Nicol Williamson's reputation. Ian Hogg—one of the Macduff assassins in Polanski's film—is here promoted to Banquo, while David Lyon—Macduff in the Oxford Playhouse production—plays Angus.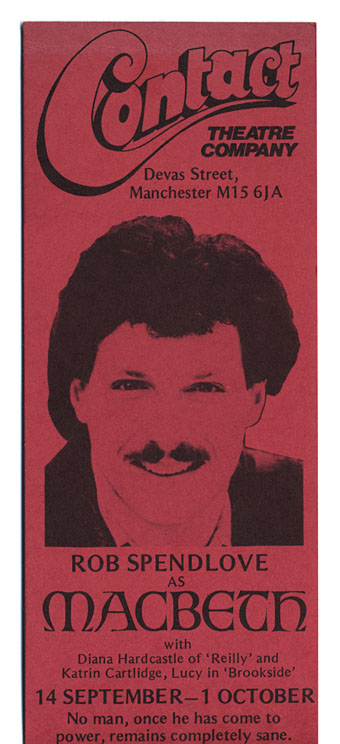 Macbeth (1984)
Rob Spendlove as Macbeth
Diane Hardcastle as Lady Macbeth
The main attraction of this stage production was the novelty of seeing actors from the Channel 4 soap opera Brookside attempting Shakespeare. Rob Spendlove's character in the soap was a weak husband which made his transmutation to a murderous thane difficult to accept at first, whatever the flaws in Macbeth's character. Most of the discussion among friends afterward concerned the Sapphic nature of the witches, one of whom, Katrin Cartlidge, became well-known later for her film work.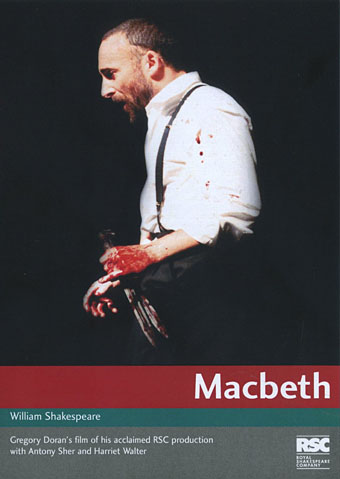 Macbeth (2001), directed by Gregory Doran
Antony Sher as Macbeth
Harriet Walter as Lady Macbeth
Antony Sher has addressed several of the major Shakespeare roles in recent years, and this was his Macbeth for the RSC. I've only seen this modern-dress production once in a TV broadcast (there's also a DVD) but remember little apart from it coming across as unrelentingly harsh throughout. The material no doubt warrants such an approach but even the Porter's scene—intended as a light moment after Duncan's murder—was given a hard and aggressive reading. Sher is always worth watching, however, and I ought to seek this one out again. London's Roundhouse was used for the location.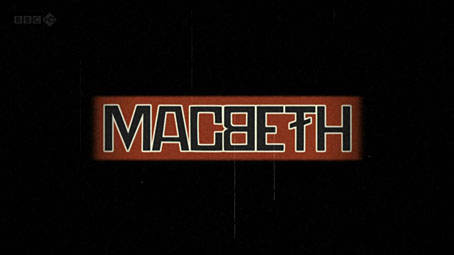 Macbeth (2010), directed by Rupert Goold
Patrick Stewart as Macbeth
Kate Fleetwood as Lady Macbeth
Another stage production reworked for TV, and on a much more lavish scale than any of the previous examples. Rupert Goold's production filters the drama through early 20th-century history and Stalin's reign of terror: guns take the place of swords, the sets are detailed and realist (Welbeck Abbey was the main location), and there's a large cast of extras. Pulling the play away from its traditional moorings allows for some inventive flourishes, the best being the witches who masquerade as death-dealing (and necromantic) hospital nurses. Elsewhere you get to see Macbeth making sandwiches for Banquo's murderers, with the subsequent murder scene being staged in the unlikely confines of a railway carriage. Even more so than in the Polanski version, wordless vignettes are used to flesh out scenes, a device that works especially well in detailing the extent of Macbeth's tyranny. The acting is first-rate throughout. If you're going to refashion the play for a contemporary tastes, this is how you do it. Highly recommended.