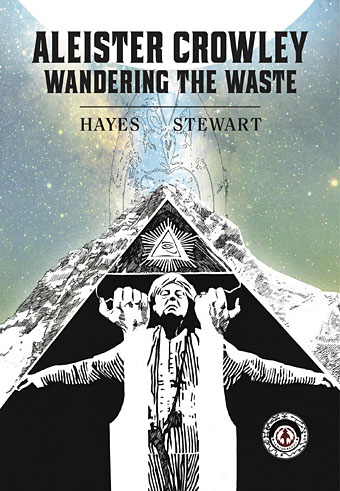 Martin Hayes was in touch this week with news of a reprint of his commendable comic-book biography of Aleister Crowley. Martin was the writer of Aleister Crowley: Wandering The Waste, and RH Stewart the artist. The first edition, which I reviewed in 2013, was a paperback whereas the new volume from Markosia will be a hardback with revised text and some new content:
Aleister Crowley: Wandering the Waste, the critically-acclaimed graphic novel by Martin Hayes, Roy Huteson Stewart, and Paul McLaren is re-launching at LSCC 2016. A meticulously researched exploration of the life of Aleister Crowley, with a foreword by renowned Crowley scholar Richard Kaczynski. This new edition has been revised and completely redesigned with a new cover and additional bonus content—fully annotated and complete with bibliography and rarities.

Aleister Crowley: Wandering the Waste is published by Markosia and will launch at London Super Comic Con in the Excel Centre on Saturday 20th of February, 2016.

Written by Martin Hayes, whose previous projects include the graphic novels Project Luna: 1947 and Abominable Glory, along with several serials for Aces Weekly. With art by Roy Huteson Stewart, who has illustrated for Vincent Price Presents and FutureQuake. Lettered by Paul McLaren. Aleister Crowley: Wandering the Waste is a meticulously researched, intricately illustrated autopsy on the life of the Great Beast. 140 pages.

Martin and Roy will be signing at the Markosia booth from 2–3pm on the Saturday of LSCC. Martin will be there from 11–12 on the Sunday.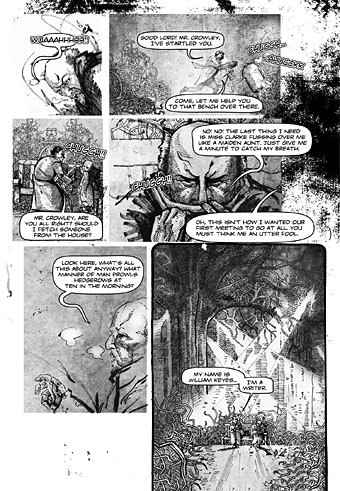 Previously on { feuilleton }
• Konx om Pax
• Aleister Crowley: Wandering The Waste
• Brush of Baphomet by Kenneth Anger
• Rex Ingram's The Magician
• The Mysteries of Myra
• Aleister Crowley on vinyl