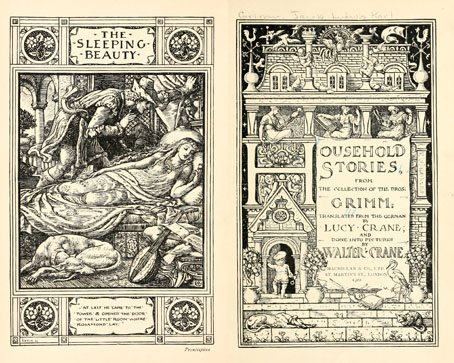 The ideal follow-up to yesterday's post would have been David Wheatley's 1979 film for the BBC's Omnibus series dramatising the life and works of the Brothers Grimm. This week was the two hundredth anniversary of the publication of the Grimm's Children's and Household Tales; I've never seen Wheatley's Grimm film which—for the moment—remains unavailable.
There are, of course, plenty of illustrated editions of the Grimm's collections although the dark tenor of the stories means these have never been as popular as Hans Christian Andersen's tales. The Internet Archive has editions by Arthur Rackham, Robert Anning Bell and Rie Cramer, as well as a later, more stylised edition by German illustrator Albert Weisgerber whose plates can be seen at 50 Watts. Weisgerber brings some of the darkness to the fore, as in the drawing which shows Gretel about to push the wicked old woman into the oven.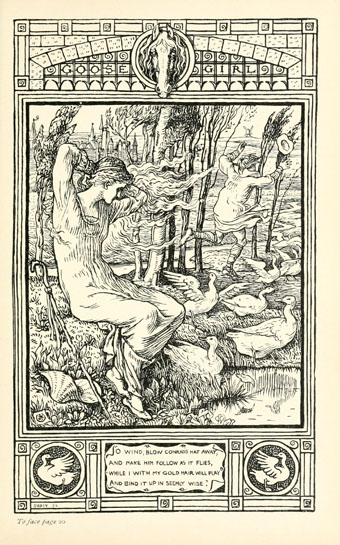 Walter Crane's edition of Household Stories was first published in 1881. I've always liked the Pre-Raphaelite quality of Crane's drawings so I favour this book over some of the other British editions. I love the house-shaped title page, and the way he embellishes the borders with details from the stories. The vignettes are as varied and inventive as you'd expect from a man who wrote a study of decorative art.
As for the stories, they can seem surprising today when the more popular Andersen fairy tales have become the versions most people know, and those mainly from anodyne film and TV adaptations. Looking at the Grimm books is like hearing older recordings of familiar folk songs (and the Perrault versions are older still): Cinderella is Aschenputtel, Little Red Riding-Hood is Little Red Cap, Snow White is Snow Drop, and so on. Walter Crane's edition, translated by his sister, Lucy, contains 52 stories, just less than a quarter of the number in the final Grimm collection. William Morris admired Crane's drawing of the Goose Girl enough to have it enlarged for a tapestry design. The scanned book can be browsed here or downloaded here.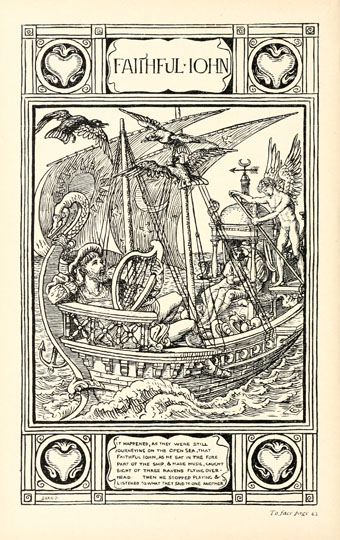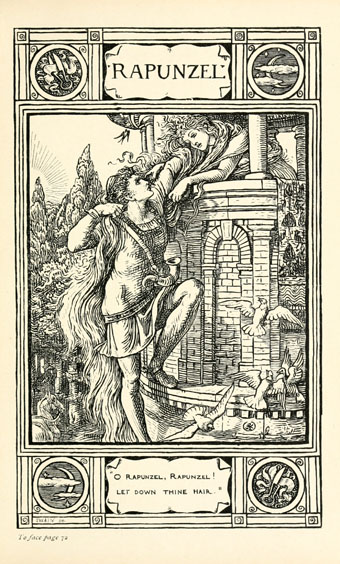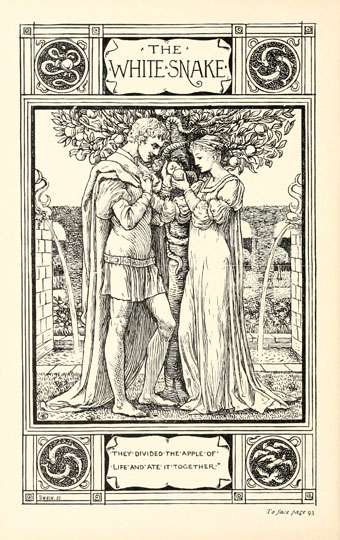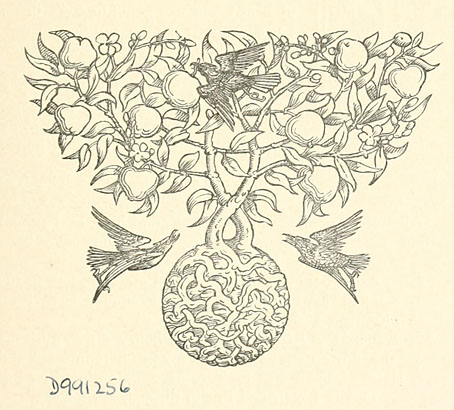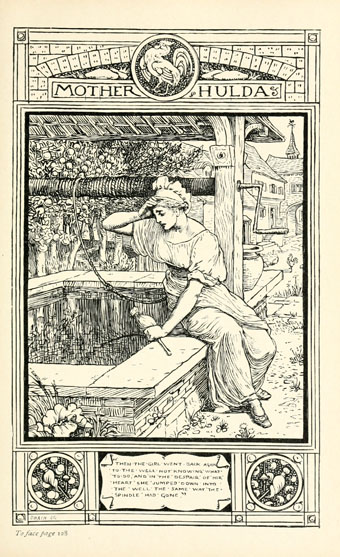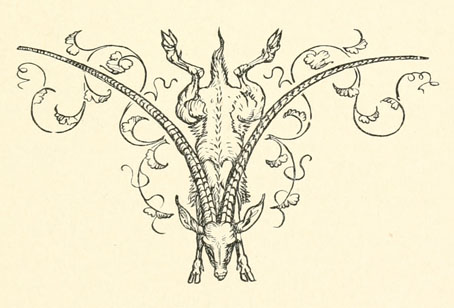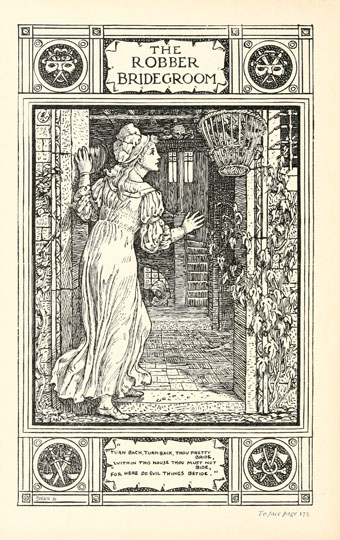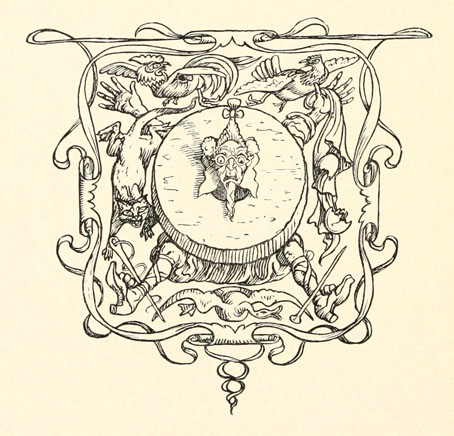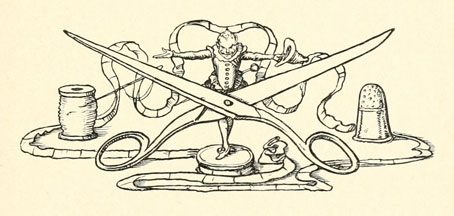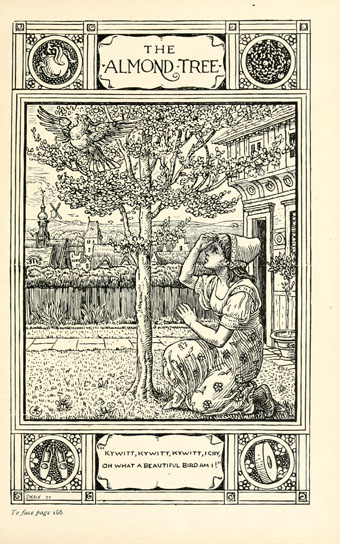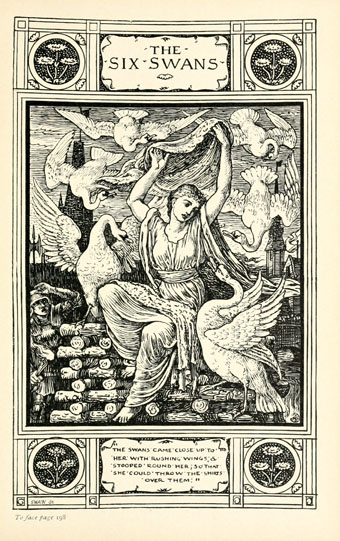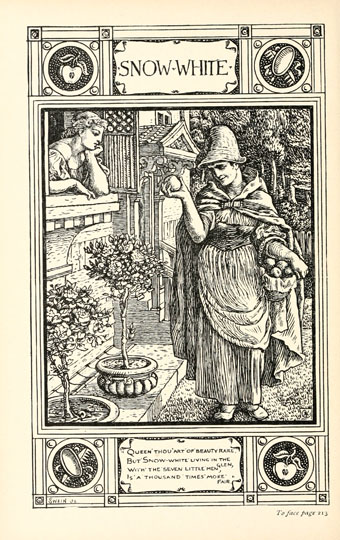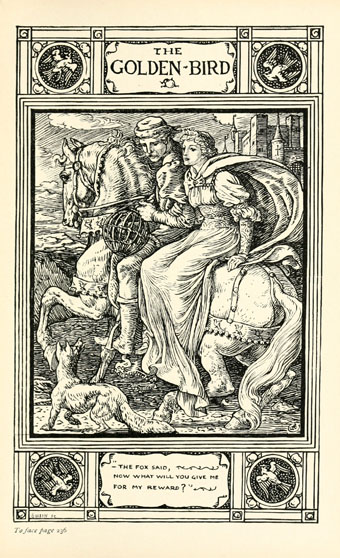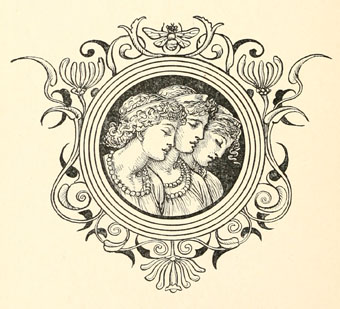 Elsewhere on { feuilleton }
• The illustrators archive