Illustration by Robert A. Graef (1932).
If the predatory octopuses of the Sargasso Sea are too mundane for you, how about an extra-dimensional Kraken named Khalk'ru which has to be placated with human sacrifice? This creature is the prime menace in A. Merritt's Dwellers in the Mirage (1932), a novel I'm afraid I haven't read despite its quite evident tentacular delirium. The story is a Lost Race adventure with the unlikely setting of a warm valley in Alaska where the usual heroic outsider encounters the diabolical Kraken worshippers. Merritt's work is out of copyright in Australia so the text of the book can be found at the Australian Project Gutenberg. There you'll discover that chapter four is entitled Tentacle of Khalk'ru.
A handful of covers and illustrations follow.
Virgil Finlay (1941).
Virgil Finlay.
No illustrator credited (1952).
A 1953 edition with an octopus swiped from Haeckel.
Douglas Rosa (1967).
Patrick Woodroffe (1974).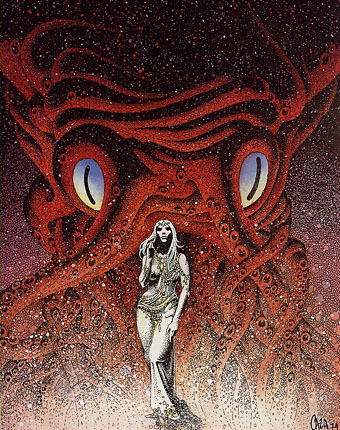 Philippe Caza (1974) for a French edition.
Elsewhere on { feuilleton }
• The illustrators archive
Previously on { feuilleton }
• Tentacles #2: The Lost Continent
• Tentacles #1: The Boats of the 'Glen Carrig'
• Octopulps