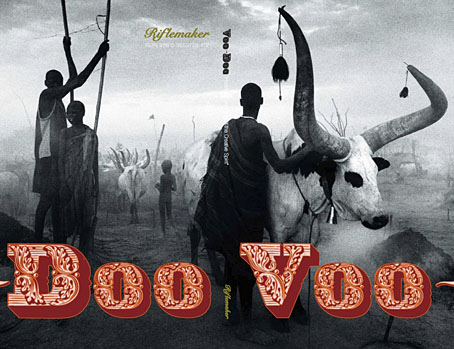 Better late than never mentioning this exhibition which has been running at Riflemaker, 79 Beak Street, London, since mid-January.
The exhibition features those artists, writers and musicians who acknowledge the need to reach a heightened or 'altered state' in order to create their work. We look at the mystery of the creative act; not the inexplicable 'spark', aka inspiration, but the fire; the non-doing before the doing, the summoning up of elemental spirits from within, or without, during the preparation of some visual or musical work, some theory or idea. This welling-up or 'possession', this 'fever in the heart of man', this spirit, this spell, might sometimes be referred to as Voodoo.
Among the very varied selection of work the chief attraction for me would be the rare opportunity to see one of Mati Klarwein's major paintings, Crucifixion. I referred to this large and detailed picture last year as I was fortunate to be able to use it for the packaging of Jon Hassell's Maarifa Street CD. And while we're on the subject of Mr Hassell (who had a track entitled Voodoo Wind on his second album) he has a new CD out on ECM, Last Night the Moon Came Dropping Its Clothes in the Street.
Voo-doo runs until April 4, 2009.
Elsewhere on { feuilleton }
• The fantastic art archive
Previously on { feuilleton }
• The art of Mati Klarwein, 1932–2002
• Exuma: Obeah men and the voodoo groove
• Voodoo Macbeth