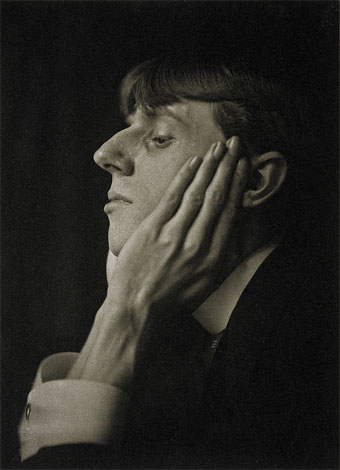 Aubrey Beardsley photographed by Frederick Evans (1894).
I've been going through the Coulthart VHS library recently, transferring to DVD recordings which can't be purchased or found online. Among these is a drama from the BBC's Playhouse strand, Aubrey by John Selwyn Gilbert, broadcast in 1982. This follows the life of artist Aubrey Beardsley from the time of Oscar Wilde's arrest in April 1895—which event resulted in Beardsley losing his position at The Yellow Book—through the foundation of The Savoy magazine, to his tubercular death in March 1898.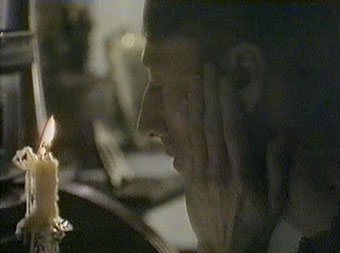 John Dicks as Aubrey.
Playhouse was a BBC 2 equivalent of Play for Today (which usually ran on BBC 1) and Aubrey like many other dramas of the period was shot on video in the studio. This was done for convenience as well as being cheaper than shooting on film, since scenes could be filmed using several cameras simultaneously. The drawback is that the image looks very harsh, and historical works such as this often seem unreal and artificial as a result. That aside, this was an excellent production with some great performances, especially Ronald Lacey as Leonard Smithers and Rula Lenska as Aubrey's sister, Mabel. The details of Beardsley's life are very accurate, down to his beloved Mantegna prints on the walls, and many of the scenes are arranged to correspond with his drawings, the production design being largely monochrome.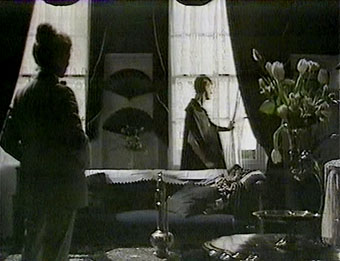 Rula Lenska and John Dicks.
Despite the limited production, the mise-en-scene presents carefully framed shots like the one above which create Beardsley-like compositions. Geoff Powell was the production designer and Peter Hammond the director. Hammond later directed several of the Sherlock Holmes adaptations for Granada TV. Producer Rosemary Hill had previously produced some of the BBC's ghost story adaptations which have acquired a cult reputation in recent years.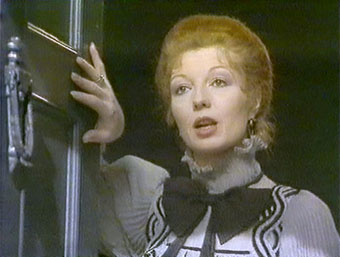 Rula Lenska is ideal as Mabel Beardsley, John Dicks less so as Aubrey although his aquiline profile certainly matches that of the artist. In many scenes he seems simply too robust and healthy and he's also conspicuously too old (he was 35 at the time) to be playing a man of 22. Gilbert agrees with a number of Beardsley's biographers that there was an incestuous component to Aubrey and Mabel's relationship and this is dramatically demonstrated in a later scene.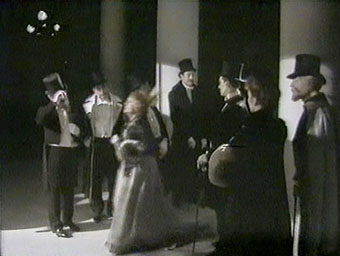 One of the many visual quotes. Just before Aubrey arrives at a theatre to see a Wagner performance we see this moment based on Lady Gold's Escort.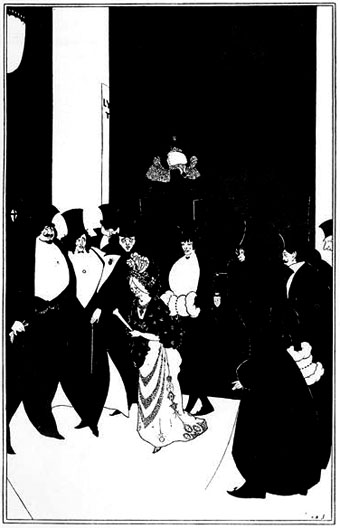 Lady Gold's Escort from The Yellow Book (1894).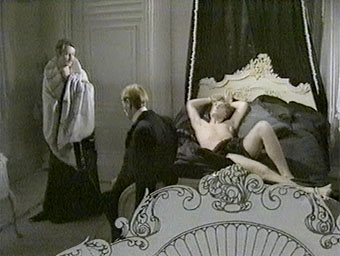 Turned away from the theatre for his perceived association with the now disreputable Wilde, Aubrey goes to visit André Raffalovich and John Gray. Raffalovich and Gray were no friends of Wilde (nor he of they) but the wealthy Raffalovich supported Beardsley through some lean times. Raffalovich is played here by Sandor Elès (left) and when he turns around at the end of the scene he reveals the design of Beardsley's Peacock Skirt on his dressing gown.
The Mirror of Love (1895).
Beardsley produced a frontispiece, The Mirror of Love, for The Thread and the Path, a collection of Raffalovich's poems but the drawing was rejected by the publisher for its allegedly "hermaphrodite" figure.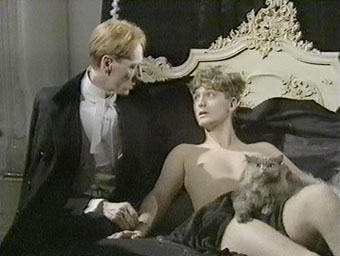 Raffalovich and Gray were a gay couple, of course, and their scene has Simon Shepherd as John Gray doing a great deal of lusciously languid posing on the black sheets.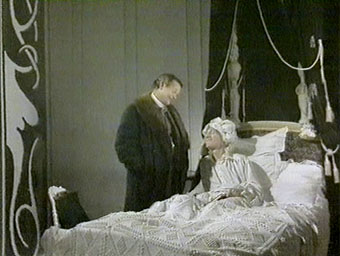 In a later bedroom scene Beardsley and Leonard Smithers meet for the first time, with the bed modelled on the (imaginary) one seen in Portrait of Himself.
Portrait of Himself from The Yellow Book (1894).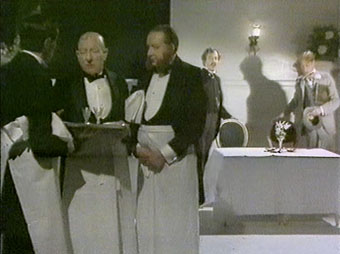 Another quote: Arthur Symons and Beardsley planning The Savoy magazine in France with a trio of waiters borrowed from Garçons de Café.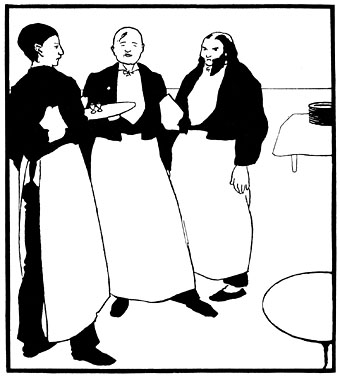 Garçons de Café from The Yellow Book (1894).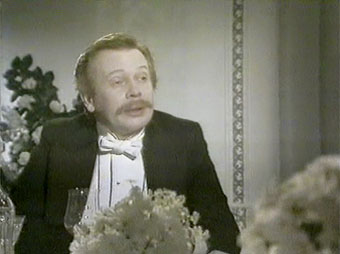 Ronald Lacey again as Smithers, the pornographer publisher about whom Oscar Wilde said:
His face, clean shaven as befits a priest who serves at the altar whose God is Literature, is wasted and pale—not with poetry, but with poets, who, he says, have wrecked his life by insisting on publishing with him. He loves first editions, especially of women: little girls are his passion. He is the most learned erotomaniac in Europe. He is also a delightful companion and a dear fellow…
In this scene we see the publisher and contributors of The Savoy celebrating the appearance of the first number at the New Lyric Club. The magazine ran for eight issues and was banned by WH Smith's. Part of the reason for the magazine's failure was that this embargo prevented it being sold at railway station stands owned by Smith's.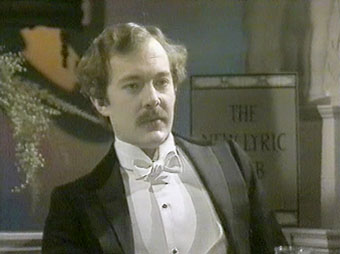 Christopher Strauli as Arthur Symons, The Savoy's literary editor, and an actor I always associate with Bunny Manders, the role he played in earlier TV adaptations of Raffles.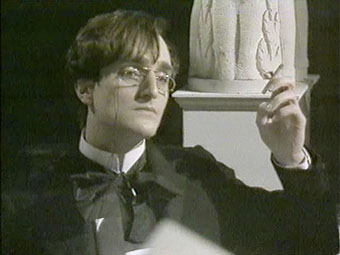 Mark Tandy as WB Yeats.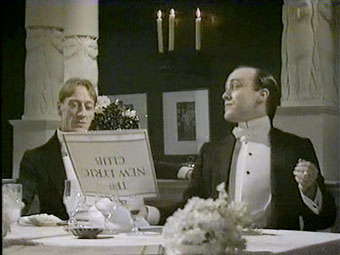 Alex Norton (right) as Max Beerbohm, showing Aubrey a caricature he's just drawn of Yeats. Beerbohm caricatured Beardsley on several occasions, and later satirised the "Yellow Nineties" in his wonderful short story Enoch Soames, so it's perhaps fitting to end with one of Beerbohm's drawings.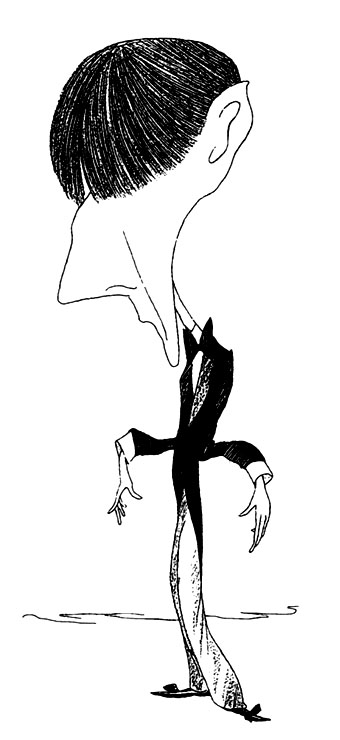 Aubrey Beardsley by Max Beerbohm (1894).
NB: I've no idea where or how you'd be able to see Aubrey for yourself and I certainly won't be distributing copies so please don't ask for one. Thanks. Anyone desperate to see it is advised to petition the BBC.
Elsewhere on { feuilleton }
• The illustrators archive
Previously on { feuilleton }
• Beardsley's Salomé
• "The game is afoot!"
• "Weirdsley Daubery": Beardsley and Punch
• Alla Nazimova's Salomé