And speaking of Kafka, today's book purchase was this 1979 story collection. The picture on the cover is a coloured aquatint and my favourite work by Czech artist Frantisek Kupka (1871–1957).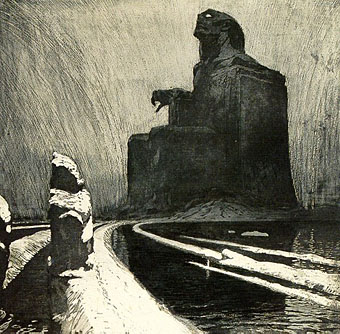 Resistance, or The Black Idol (1903).
Kupka is one of the more unique artists of the period, having begun his career in the Symbolist mode then abruptly changed course, post-Cubism, to become one of the earliest abstract painters. Kandinsky and Mondrian followed a similar evolution but little of their early work is valued, whereas Kupka's Symbolist pastels and etchings are still regarded as significant. This page has several of his pictures on mystical themes.
As well as being a good match for Kafka, The Black Idol was also the model for the ruined castle in Francis Coppola's Dracula. There aren't any decent pictures around, unfortunately, but if you must you can go and squint at the screen grabs here.
Elsewhere on { feuilleton }
• The book covers archive