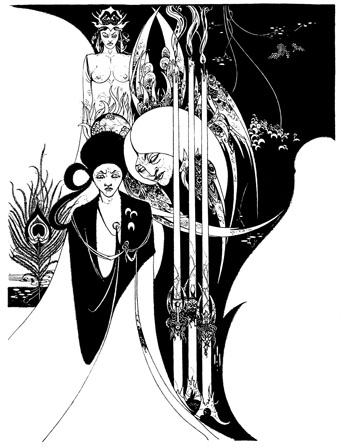 Of a Neophyte, and How the Black Art Was Revealed unto Him by the Fiend Asomuel. Aubrey Beardsley for the Pall Mall Magazine, 1893.

• The occult preoccupations of the 1970s appear to be in the ascendant just now. Whether this is mere nostalgia or something in the zeitgeist remains to be seen but BBC Radio 4 aired an hour-long documentary on the subject this weekend entitled Black Aquarius. The guest list implies an inevitable focus on film and television but Matthew Sweet covered a lot of ground, taking in the Hermetic Order of the Golden Dawn, Aleister Crowley, Dennis Wheatley, The Process Church, and Alex Sanders, the public face of British witchcraft in the 1960s and 70s. Earlier this week at AnOther the focus was on Maxine Sanders, High Priestess of the Alexandrian coven and putative fashion icon even though she was generally photographed naked. Maxine and husband Alex are unavoidable when reading about UK occultism in the 1970s; among other things they were occult advisors to Satanic rock band Black Widow, and also released an album of their own in 1970, A Witch Is Born. Of more interest is Sacrifice by Black Widow, a 55-minute concert for German TV's Beat Club.
• Jacques Rivette's OUT 1 (1971) is a film more talked about than seen, in part because of a running time that exceeds 12 hours. So news of a Blu-ray release later this year is very welcome.
• "Bruce LaBruce: taking zombie porn and gay homophobic skinheads to MoMA". The director goes through his filmography with Nadja Sayej.
• "Art is anarchistic, and when it becomes categorized, it loses impact." RIP Bernard Stollman, founder of the amazing ESP-Disk record label.
• Magickal (and pseudonymous) synth music by Mort Garson: Black Mass (1971) by Lucifer, and The Unexplained (1975) by Ataraxia.
• Kevin Titterton on Angelo Badalamenti and the soundtrack that made Twin Peaks.
• Mix of the week: Secret Thirteen Mix 149 by Robert Aiki Aubrey Lowe.
• Rare Decay, a free bonus track from Aurora by Ben Frost.
• Alan Garner is celebrated in a new collection, First Light.
• At Dangerous Minds: The Residents' radio special, 1977.
• Black Sabbath (1969) by Coven | Black Sabbath (1970) by Black Sabbath | Her Lips Were Wet With Venom (Satan Oscillate My Metallic Sonatas 1 & 2) (2006) by Boris & Sunn O)))