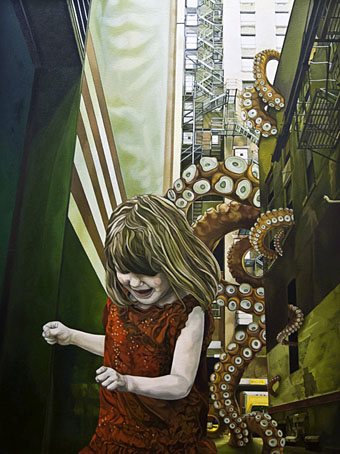 The Conjure (2016) by Jolene Lai. Via Dangerous Minds.
• RIP George Romero, a proudly independent filmmaker who succeeded on his own terms. Kim Newman remembers the man who remade horror cinema. Romero always referred to Powell & Pressburger's Tales of Hoffmann (1951) as a key cinematic influence, something he discussed with Marc Lee in 2005.
• Man Alive (BBC TV, 1967): Consenting Adults: 1. The Men | Consenting Adults: 2. The Women. Two documentaries about the British homosexual experience screened shortly before the House of Commons vote that decriminalised sex between men in England and Wales.
• Dolente…Dolore: The Inferno of Malcolm Lowry is the latest musical release from Larkfall: "a trembling, drunken dream with flashes of heaven and hell…"
• Tom Harper on The Klenke Atlas (1660), one of the largest atlases in the world which is now available for viewing at the British Library.
• Martin Jenkins of Pye Corner Audio, The House In The Woods et al talks to Bandcamp about his own brand of sinister electronica.
• RIP Peter Principle, a musician whose up-front bass playing was always a key feature of the Tuxedomoon sound.
• And RIP actor John Heard talking to Will Harris in 2015 about some of his many roles in film and TV.
• 355 free copies of Galaxy Magazine at the Internet Archive.
• Google Maps goes inside the International Space Station.
• Good with a knife: The papercut art of Ivonne Carley.
• Mix of the week: FACT Mix 610 by Karen Gwyer.
• At Dennis Cooper's: Yasujiro Ozu Day.
• L'alba Dei Morti Viventi (1978) by Goblin | East/Jinx/•••/Music #1 (1981) by Tuxedomoon | Martin (1983) by Soft Cell