Three years ago I binged on all the Jan Svankmajer feature films after buying the box of blu-rays released by the director's Athanor company. Once I'd worked my way through that lot, and rewatched the BFI collection of Svankmajer's short films, I went through all the documentaries I've managed to accumulate, including this two-part BBC study which I taped when it was first broadcast in 1992. It's likely that Svankmajer's approach to film and to Surrealism no longer requires the kind of introduction that seemed necessary in the 1990s, but for those who do need such a thing this is a good place to start.
Ben Fox's documentary was made to coincide with an exhibition of Svankmajer's films and artworks being shown at an animation festival in Cardiff. The two installments examine a different aspect of Svankmajer's cinematic works: "Memories of Mysterious Beings" concerns the films that deal with childhood dreams and fears, while "The Naming of Demons" concentrates on his use of Surrealism as a tool for satire or social critique. In between lengthy extracts from the films the camera prowls around some of the director's artworks while an actor reads statements Svankmajer has made about his interests and intentions. This last feature isn't something I enjoy very much, not when the actor's nasal delivery is so different from Svankmajer's own voice. It's a common ploy in documentaries, having someone impersonate an interviewee to avoid using subtitles, but it's one I find distracting when done like this.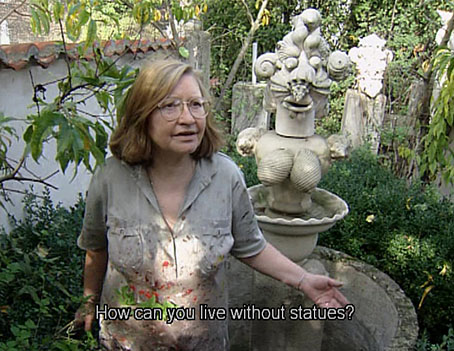 Eva liked statues.
At this point I would have directed your attention once again to Jan Svankmajer, Director, a documentary about Czech cinema which featured the man himself talking at length about his activities in the 1960s, but this has now been removed from YouTube. In its place, however, there's a more recent upload, Les Chimères des Svankmajer, an 80-minute documentary for French TV by Bertrand Schmitt and Michel Leclerc which is included among the extras on the BFI's collection of Svankmajer's short films. The only trouble here is that the YT copy has no subtitles, you'll need to be a French speaker to understand the voice-overs which run throughout. This is one of the best of all the Svankmajer documentaries since it shows the range of activities conducted by Svankmajer and his late wife, Eva Svankmajerová, as artists and foremost members of the Prague Surrealist Group; film-making, as Svankmajer has often stressed in interviews, was only one outlet for his creativity. (It was also one he was forbidden to practice for several years when the Communist authorities took exception to his work.) In addition to seeing the Svankmajers preparing an exhibition of their creations, Schmidt and Leclerc show us something of their home outside Prague, an artwork in itself that combines the sculpture park and Wunderkammer. Eva Svankmajerová was the creator of many of those sculptures, a celebrated artist in her own right whose contribution to her husband's films has often been overlooked.
Previously on { feuilleton }
• Svankmajer's cats
• Jan Svankmajer: The Animator of Prague
• Jan Svankmajer, Director
• Don Juan, a film by Jan Svankmajer
• The Pendulum, the Pit and Hope
• Two sides of Liska