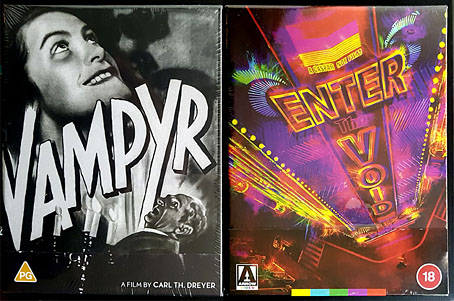 "…dreams come through stone walls, light up dark rooms, or darken light ones, and their persons make their exits and their entrances as they please, and laugh at locksmiths."

Carmilla by Joseph Sheridan Le Fanu
In the (delayed) mail this week: a film in which one of the characters dreams he's being buried alive in a sequence where we experience the burial from his point of view; and a film in which the main character is shot dead in the first 15 minutes, after which we journey with him into the afterlife, passengers inside his posthumous awareness, travelling through walls and laughing at locksmiths.
(Those aren't the only coincidental connections between the two films. Playwright and screenwriter David Rudkin wrote about Vampyr for the BFI Film Classics series, while Rudkin's most well-known TV play, Penda's Fen, was directed by Alan Clarke, who Gaspar Noé credits as an influence. In Enter the Void the Clarke-like mobile camera doesn't just follow people around but takes to the air…or the ether.)
I already had a German blu-ray of Noé's chef d'oeuvre but, you know…cult film plus quality Arrow package with lots of new extras in an iridescent case. Support the artists and outlets you value. As for Vampyr, I'm looking forward to seeing this in a much better print than the poor transfer I watched years ago. Carl Dreyer photographed his adaptation of Sheridan Le Fanu's Carmilla through a layer of muslin to enhance its dream-like atmosphere, the kind of treatment that warrants high-definition. Another viewing may also compel me to finally broach the collection of Dreyer films that I bought in a sale a while ago and have yet to watch. I've no problem sitting through all manner of dour European dramas but every time I look at that brick of Danish gloom I think "maybe later", and end up choosing something else. Maybe later is now.
Previously on { feuilleton }
• Enter the Void
• David Rudkin on Carl Dreyer's Vampyr