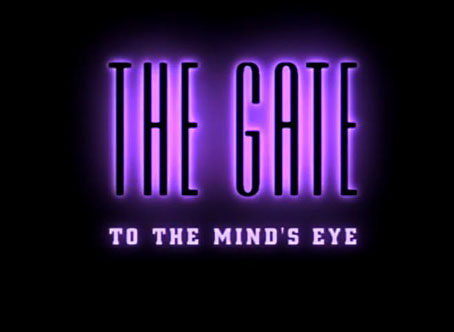 Turn a 6 on its head and you'll see a number 9. Do the same with the psychedelic culture of the 1960s and you get the 1990s when psychedelia emerged again, after a fashion, in a profusion of new drugs (plus the same old ones), "ambient" music (a lot of which was never very ambient at all), and, of course, computer graphics. The resemblance of the overlit, weightless world of early computer graphics to the vivid inner landscapes of psychedelic hallucination prompted people like Timothy Leary to declare computers to be their new drug of choice, while also inspiring the resurrection of the kind of visual tripping aid that would have been considered dead and buried in the very un-psychedelic 1980s. (There were a few musical exceptions in that decade—the Paisley Underground, the Dukes of Stratosphear albums, Around The World In A Day by Prince & The Revolution—but all these were counter to the dominant trends of the time.)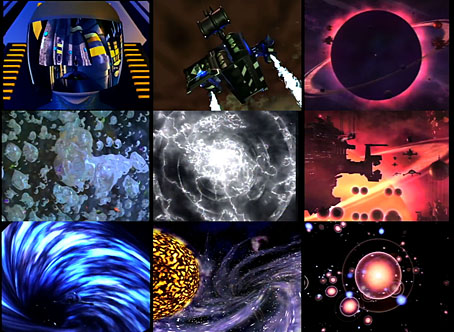 CD-ROMS were the hippest vehicle for far-out visuals in the mid-90s. Brian Eno was vocal in his criticism of the limitations of the point-and-click CD-ROM format but he still provided music for a thing called Headcandy in 1994, one of a series of "video kaleidoscopes" with 3-D visuals created by Chris Juul and Doug Jipson. Not so overtly druggy was a series of VHS tapes and laserdiscs released throughout the 1990s by Odyssey Productions, all of which had the words "Mind's Eye" in their titles: The Mind's Eye: A Computer Animation Odyssey (1990), Beyond the Mind's Eye (1992), The Gate to the Mind's Eye (1994) and Odyssey Into The Mind's Eye (1996). Where Headcandy and its relations created far-out visuals using original data encoded on a CD-ROM, the Mind's Eye laserdiscs wowed the viewer by stitching together the latest examples of CGI from a variety of sources—showreels, TV ads, music videos and so on—giving you an hour of coloured balls bouncing across crystal mountains, pulsating blobs of mercury, shiny objects zooming through corridors and vortices, together with the clumsy figure animation that's a consistent feature of early computer graphics. Each instalment was provided with a soundtrack by a different musician, so each release is really a long music video in itself, rather like The Orb's Adventures Beyond The Ultraworld (Patterns & Textures) (1992), a 50-minute collage of rave footage, dolphins, spacewalking astronauts and cheap video effects soundtracked by live music from The Orb.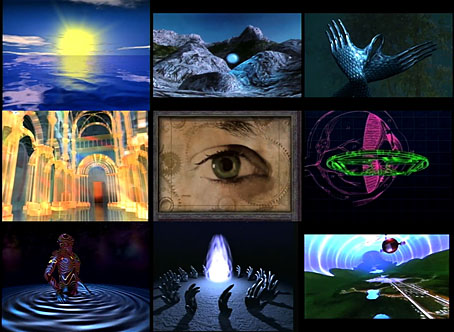 The Gate to the Mind's Eye is highlighted here mainly for its having a soundtrack by Thomas Dolby that I hadn't heard before. Other instalments feature original music by Jan Hammer (which may be okay), and Kerry Livgren from Kansas (which promises to be as unpalatable as Giorgio Moroder's misconceived mauling of Fritz Lang's Metropolis). The Gate to the Mind's Eye doesn't feature the best of Dolby's music, it should be said, which may explain why the soundtrack CD has only been reissued once since 1994, while the visual material looks like a combination of music video and computer game. But there's a lot of this stuff around today, especially at the Internet Archive which now has a laserdisc section containing several uploads from Odyssey Productions and its affiliate, Miramar Productions. Closer to the psychedelic ideal is a series of discs from Japan with the uninventive name of Video Drug. The Internet Archive has five discs from this series. I might have been happy to watch these in the 1990s when late-night TV in the UK was either dull or non-existent but today I'm more taken with outmoded things like Electric Light Voyage aka Ascent 1, a video release from 1979 which featured analogue video effects of a type you don't find at all in the digital world.
Elsewhere on { feuilleton }
• The abstract cinema archive
Previously on { feuilleton }
• Kusama's Self-Obliteration, a film by Jud Yalkut
• Science Friction by Stan VanDerBeek