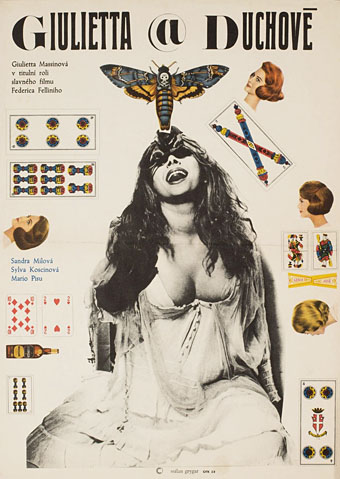 Poster by Milan Grygar for the 1969 Czech release of Fellini's Juliet of the Spirits.
• "By encouraging composers to engage with sound as something more than just 'notes on a keyboard', the result [of the Buchla] was the kind of intricate sound design last heard in musique concrète. Works such as Morton Subotnick's, Silver Apples of the Moon (1967) show a futurism completely absent on Wendy Carlos' otherwise highly influential Switched-on Bach (1968), which used the keyboard-controlled Moog modular as if it were merely a glorified organ." Oli Freke on the evolution of the synthesizer.
• "As humans began settling more consistently in one place to grow and thrive, the penis—or, more specifically, its erect form, the phallus—often came into use as a protector of fields that would prove fertile. In contrast to the comparative prudery of today, the phallus adorned everything from gods to shrines to personal homes and jewellery." Emily Willingham on penial evolution in the animal kingdom.
• "The Trumpets of Jericho is, in part, so uniquely unsettling because it allows the woman in question to narrate her own horror. She is eager to give birth not to meet her child but so that she can go ahead and kill it." Reed McConnell on the writings of Unica Zürn and (once again) Leonora Carrington.
At the center of it all, there was one director whom everyone knew, one artist whose name was synonymous with cinema and what it could do. It was a name that instantly evoked a certain style, a certain attitude toward the world. In fact, it became an adjective. Let's say you wanted to describe the surreal atmosphere at a dinner party, or a wedding, or a funeral, or a political convention, or for that matter, the madness of the entire planet—all you had to do was say the word 'Felliniesque' and people knew exactly what you meant.

In the Sixties, Federico Fellini became more than a filmmaker. Like Chaplin and Picasso and the Beatles, he was much bigger than his own art. At a certain point, it was no longer a matter of this or that film but all the films combined as one grand gesture written across the galaxy. Going to see a Fellini film was like going to hear Callas sing or Olivier act or Nureyev dance. His films even started to incorporate his name—Fellini Satyricon, Fellini's Casanova. The only comparable example in film was Hitchcock, but that was something else: a brand, a genre in and of itself. Fellini was the cinema's virtuoso.

Martin Scorsese on "Il Maestro", Federico Fellini
• At Dennis Cooper's: For Your Crushed Right Eye: The instrumental films of Takahiro Iimura, Tetsuji Takechi, Toshi Matsumoto, Masao Adachi and Takashi Ito.
• "We wanted people to see that we exist." Joan E. Biren, the photographer who recorded lesbian life in the 70s.
•New music: Alkisah by Senyawa, and Bishintai by Unknown Me.
• Mix of the week: XLR8R Podcast 683 by Laila Sakini.
• Phallus Dei (1969) by Amon Düül II | Sidereal Hands At The Temple Of Omphalos (1996) by Scenic | Starman (feat. Peter Brötzmann) (2017) by Phallus Dei